Night Life programs provide lifelong learners with opportunities to develop hands-on skills and knowledge for employment or just for the fun of it. Instructors are professionals and work as artisans, business owners, educators and masters of their trade. Their enthusiasm is contagious as they share their expertise teaching evening classes and technical workshops.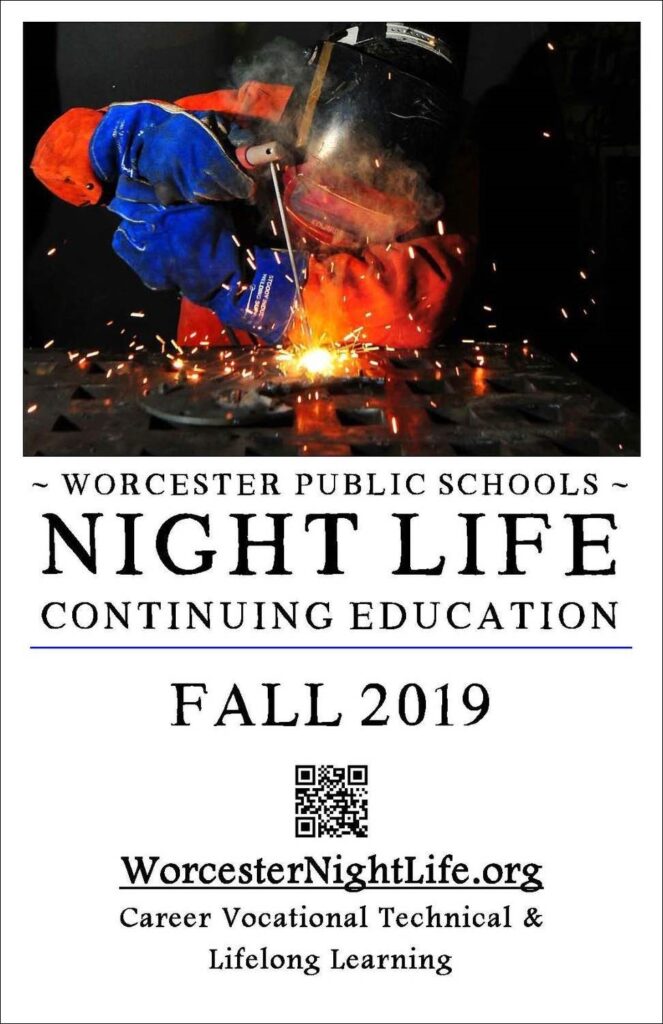 Click image to view catalog.
Print catalogs will be in the Worcester Telegram and Gazette on August 29.
Learn more about classes and register online by clicking below images.
Night Classes – Career Vocational Technical
Night Classes – Career Medical
Night Classes – Lifelong Learning
Online Classes
| CLASS | PRICE | DESCRIPTION |
| --- | --- | --- |
| A to Z Grant Writing | $115 | Learn how to research and develop relationships with potential funding sources, organize grant writing campaigns, and prepare proposals. |
| A to Z Grant Writing (Self-Paced Tutorial) | $100 | Learn how to research and develop relationships with potential funding sources, organize grant writing campaigns, and prepare proposals. |
| A to Z Grant Writing II - Beyond the Basics | $115 | Sharpen your grant research skills, write the most important sections of grant applications, and learn the types of grants available. |
| A to Z Grant Writing II - Beyond the Basics (Self-Paced Tutorial) | $115 | Sharpen your grant research skills, write the most important sections of grant applications, and learn the types of grants available. |
| A to Z Grant Writing Series | $199 | Learn all there is to know about writing grants, fundraising, and organizing a grant writing campaign. This group of online classes is ideal for those wanting to learn more about managing fundraising. |
| Accounting Fundamentals | $115 | Gain a marketable new skill by learning the basics of double-entry bookkeeping, financial reporting, and more. |
| Accounting Fundamentals (Self-Paced Tutorial) | $115 | Gain a marketable new skill by learning the basics of double-entry bookkeeping, financial reporting, and more. |
| Accounting Fundamentals II | $115 | Give yourself skills that are in high demand by exploring corporate accounting with a veteran instructor. |
| Accounting Fundamentals II (Self-Paced Tutorial) | $115 | Explore corporate accounting and give yourself skills that are in high demand. |
| Accounting Fundamentals Series | $199 | If you're interested in increasing your financial awareness while also gaining a marketable skill, this series of courses is perfect for you. |
| Accounting with Excel Suite | $395 | Master the skills and develop the knowledge you need to increaseyour financial awareness, while taking your Excel skillsto addtime-saving functions to your repertoire. |
| Achieving Success with Difficult People | $115 | Learn how to have more successful relationships with difficult bosses, co-workers, students, neighbors, or relatives. |
| Achieving Success with Difficult People (Self-Paced Tutorial) | $115 | Learn how to have more successful relationships with difficult bosses, co-workers, students, neighbors, or relatives. |
| Achieving Top Search Engine Positions | $115 | Learn proven, step-by-step strategies to achieve higher positions with major search engines. |
| Administrative Assistant Applications | $115 | Gain the skills and knowledge you'll need to prepare for the Certified Administrative Professional exam and begin a rewarding career as an administrative assistant. |
| Administrative Assistant Fundamentals | $115 | Prepare to take advantage of the many new job opportunities in health care, legal services, and other industries. |
| Administrative Assistant Fundamentals (Self-Paced Tutorial) | $115 | Prepare to take advantage of the many new job opportunities in health care, legal services, and other industries. |
| Administrative Assistant Suite | $299 | In this discounted bundle suite, you will learn the skills you need to excel as an administrative professional or executive assistant |
| Adobe Value Suite | $299 | Are you interested in dabbling in digital design and photo editing? This discounted group of courses teaches you the basics of Adobe's powerful image and graphic design software. |
| Advanced CompTIA A+ Certification Prep | $110 | Finish your CompTIA A+ Certification Prep by learning how to select, install, and service video, sound, and portable computers, and how to network, secure, and troubleshoot. |
| Advanced CSS3 and HTML5 | $115 | Learn how to use exciting new features in CSS3 and HTML5 to design animated interactive websites for desktops, laptops, and mobile devices. |
| Advanced Fiction Writing | $100 | Explore advanced fiction writing techniques with a published novelist. |
| Advanced Grant Proposal Writing | $115 | Gain a full understanding of the criteria funders use to determine whether your grant proposal gets funded or rejected. |
| Advanced Microsoft Excel 2007 | $115 | Discover the advanced features and functions of Microsoft Excel 2007 and find out everything this powerful program can do for you. |
| Advanced Microsoft Excel 2010 | $115 | Discover the advanced features and functions of Microsoft Excel 2010, including data analysis tools, database techniques, and advanced methods for using PivotTables. |
| Advanced Microsoft Excel 2013 | $115 | Master advanced features and functions of Microsoft Excel 2013, including analysis tools, data tables, PivotTables, and conditional formatting. |
| Advanced Microsoft Excel 2013 (Self-Paced Tutorial) | $115 | Master advanced features and functions of Microsoft Excel 2013, including analysis tools, data tables, PivotTables, and conditional formatting. |
| Advanced Microsoft Excel 2016 | $129 | Master advanced features and functions of Microsoft Excel 2016, including data analysis tools, data tables and databases, PivotTables, custom controls, importing external data, and conditional formatting. |
| Advanced PC Security | $115 | Use ethical hacking techniques to locate and close security holes in your own network. |
| Advanced Web Pages | $115 | Take your Web development skills to the next level as you learn how to create advanced websites using CSS, HTML5, media queries for mobile devices, interactive forms, and embedded video. |
| Aging and Health Bundle | $249 | Gain the knowledge and skills from the latest research and emerging trends in healthy aging, brain health, and gerontology to help you effectively care for and work with aging population. |
| Animal Lover Suite | $299 | Master the skills and develop the knowledge you need to translate your passion of animals into a profitable career by this 3 course bundle ofPhotographing Nature with Your Digital Camera,Start a Pet Sitting Business, and Become a Veterinary Assistant. |
| ASE Technician Test Preparation (TTP) Truck Series: T1 Gasoline Engines | $30 | Prepare for the Automotive Service Excellence T1 Gasoline Engines exam featuring all of the necessary components which includes a detailed, three-tiered preparatory methodology of Practice, Standard and Timed testing modes. |
| ASE Technician Test Preparation (TTP) Truck Series: T2 Diesel Engines | $30 | Prepare for the Automotive Service Excellence T2 Diesel Engines exam featuring all of the necessary components which includes a detailed, three-tiered preparatory methodology of Practice, Standard and Timed testing modes. |
| ASE Technician Test Preparation (TTP) Truck Series: T3 Drive Train | $30 | Prepare for the Automotive Service Excellence T3 Drive Train exam featuring all of the necessary components which includes a detailed, three-tiered preparatory methodology of Practice, Standard and Timed testing modes. |
| ASE Technician Test Preparation (TTP) Truck Series: T4 Brakes | $30 | Prepare for the Automotive Service Excellence T4 Brakes exam featuring all of the necessary components which includes a detailed, three-tiered preparatory methodology of Practice, Standard and Timed testing modes. |
| ASE Technician Test Preparation (TTP) Truck Series: T5 Suspension/Steering | $30 | Prepare for the Automotive Service Excellence T5 Suspension/Steering exam featuring all of the necessary components which includes a detailed, three-tiered preparatory methodology of Practice, Standard and Timed testing modes. |
| ASE Technician Test Preparation (TTP) Truck Series: T6 Electrical and Electronic Systems | $30 | Prepare for the Automotive Service Excellence T6 Electrical and Electronic Systems exam featuring all of the necessary components which includes a detailed, three-tiered preparatory methodology of Practice, Standard and Timed testing modes. |
| ASE Technician Test Preparation (TTP) Truck Series: T7 Heating, Ventilation, and Air Condition | $30 | Prepare for the Automotive Service Excellence Automotive Service Excellence T7 Heating, Ventilation, and Air Condition exam featuring all of the necessary components which includes a detailed, three-tiered preparatory methodology of Practice, Standard and Timed testing modes. |
| ASE Technician Test Preparation (TTP) Truck Series: T8 Preventative Maintenance | $30 | Prepare for the Automotive Service Excellence T8 Preventative Maintenance exam featuring all of the necessary components which includes a detailed, three-tiered preparatory methodology of Practice, Standard and Timed testing modes. |
| ASE Technician Test Preparation 2.0 (TTP2): Auto Maintenance and Light Repair (G1) | $30 | Prepare for the ASE Auto Maintenance and Light Repair (G1) exam featuring all of the necessary components which includes a detailed, three-tiered preparatory methodology of Practice, Standard and Timed testing modes. |
| ASE Technician Test Preparation 2.0 (TTP2): Automotive Exhaust Systems (X1) | $30 | Prepare for the ASE Automotive Exhaust Systems (X1) exam featuring all of the necessary components which includes a detailed, three-tiered preparatory methodology of Practice, Standard and Timed testing modes. |
| ASE Technician Test Preparation 2.0 (TTP2): Automotive Light Vehicle Diesel Engines (A9) | $30 | Prepare for the ASE Automotive Light Vehicle Diesel Engines (A9) exam featuring all of the necessary components which includes a detailed, three-tiered preparatory methodology of Practice, Standard and Timed testing modes. |
| ASE Technician Test Preparation 2.0 (TTP2): Automotive Manual Drive Trains and Axles (A3) | $30 | Prepare for the ASE Automotive Manual Drive Trains and Axles (A3) exam featuring all of the necessary components which includes a detailed, three-tiered preparatory methodology of Practice, Standard and Timed testing modes. |
| ASE Technician Test Preparation 2.0 (TTP2): Automotive Parts Specialist (P2) | $30 | Prepare for the ASE Automotive Parts Specialist (P2) exam featuring all of the necessary components which includes a detailed, three-tiered preparatory methodology of Practice, Standard and Timed testing modes. |
| ASE Technician Test Preparation 2.0 (TTP2): Automotive Advanced Engine Performance (L1) | $30 | Prepare for the ASE Automotive Advanced Engine Performance (L1) exam featuring all of the necessary components which includes a detailed, three-tiered preparatory methodology of Practice, Standard and Timed testing modes. |
| ASE Technician Test Preparation 2.0 (TTP2): Automotive Automatic Transmissions and Transaxles (A2) | $30 | Prepare for the ASE Automotive Automatic Transmissions and Transaxles (A2) exam featuring all of the necessary components which includes a detailed, three-tiered preparatory methodology of Practice, Standard and Timed testing modes. |
| ASE Technician Test Preparation 2.0 (TTP2): Automotive Brakes (A5) | $30 | Prepare for the ASE Automotive Brakes (A5) exam featuring all of the necessary components which includes a detailed, three-tiered preparatory methodology of Practice, Standard and Timed testing modes. |
| ASE Technician Test Preparation 2.0 (TTP2): Automotive Electrical Electronic Systems (A6) | $30 | Prepare for the ASE Automotive Electrical Electronic Systems (A6) exam featuring all of the necessary components which includes a detailed, three-tiered preparatory methodology of Practice, Standard and Timed testing modes. |
| ASE Technician Test Preparation 2.0 (TTP2): Automotive Engine Performance (A8) | $30 | Prepare for the ASE Automotive Engine Performance (A8) exam featuring all of the necessary components which includes a detailed, three-tiered preparatory methodology of Practice, Standard and Timed testing modes. |
| ASE Technician Test Preparation 2.0 (TTP2): Automotive Engine Repair (A1) | $30 | Prepare for the ASE Automotive Engine Repair (A1) exam featuring all of the necessary components which includes a detailed, three-tiered preparatory methodology of Practice, Standard and Timed testing modes. |
| ASE Technician Test Preparation 2.0 (TTP2): Automotive Heating and Air Conditioning (A7) | $30 | Prepare for the ASE Automotive Heating and Air Conditioning (A7) exam featuring all of the necessary components which includes a detailed, three-tiered preparatory methodology of Practice, Standard and Timed testing modes. |
| ASE Technician Test Preparation 2.0 (TTP2): Automotive Service Consultant (C1) | $30 | Prepare for the ASE Automotive Service Consultant (C1) exam featuring all of the necessary components which includes a detailed, three-tiered preparatory methodology of Practice, Standard and Timed testing modes. |
| ASE Technician Test Preparation 2.0 (TTP2): Automotive Suspension & Steering (A4) | $30 | Prepare for the ASE Automotive Suspension Steering (A4) exam featuring all of the necessary components which includes a detailed, three-tiered preparatory methodology of Practice, Standard and Timed testing modes. |
| ASE Technician Test Preparation 2.0: Medium/Heavy Duty Truck Electronic Diesel Diagnosis (L2) | $30 | Prepare for the Automotive Service Excellence Medium/Heavy Duty Truck Electronic Diesel Diagnosis (L2) exam featuring all of the necessary components which includes a detailed, three-tiered preparatory methodology of Practice, Standard and Timed testing modes. |
| ASE Technician Test Preparation H1: Compressed Natural Gas Engines | $30 | Prepare for the ASE Transit Bus H1: Compressed Natural Gas Engines exam featuring all of the necessary components which includes a detailed, three-tiered preparatory methodology of Practice, Standard and Timed testing modes. |
| ASE Technician Test Preparation H2: Diesel Engines | $30 | Prepare for the ASE Technician Test Preparation H2: Diesel Engines exam featuring all of the necessary components which includes a detailed, three-tiered preparatory methodology of Practice, Standard and Timed testing modes. |
| ASE Technician Test Preparation H3 ? Drive Train | $30 | Prepare for the ASE Transit Bus H3: Drive Train exam featuring all of the necessary components which includes a detailed, three-tiered preparatory methodology of Practice, Standard and Timed testing modes. |
| ASE Technician Test Preparation H4: Brakes | $30 | Prepare for the ASE Transit Bus H4: Brakes exam featuring all of the necessary components which includes a detailed, three-tiered preparatory methodology of Practice, Standard and Timed testing modes. |
| ASE Technician Test Preparation H5 ? Suspension and Steering | $30 | Prepare for the ASE Transit Bus H5: Suspension and Steering exam featuring all of the necessary components which includes a detailed, three-tiered preparatory methodology of Practice, Standard and Timed testing modes. |
| ASE Technician Test Preparation H6: Electrical/Electronic Systems | $30 | Prepare for the ASE Transit Bus H6: Electrical/Electronic Systems exam featuring all of the necessary components which includes a detailed, three-tiered preparatory methodology of Practice, Standard and Timed testing modes. |
| ASE Technician Test Preparation H7: Heating, Ventilation, and Air Conditioning | $30 | Prepare for the ASE Transit Bus H7: Heating, Ventilation, and Air Conditioning exam featuring all of the necessary components which includes a detailed, three-tiered preparatory methodology of Practice, Standard and Timed testing modes. |
| ASE Technician Test Preparation H8: Preventive Maintenance | $30 | Prepare for the ASE Transit Bus H8: Preventive Maintenance exam featuring all of the necessary components which includes a detailed, three-tiered preparatory methodology of Practice, Standard and Timed testing modes. |
| Basic CompTIA A+ Certification Prep | $110 | Start preparing for CompTIA A+ certification as you learn PC basics and troubleshoot in a real world PC environment. |
| Basic CompTIA A+ Certification Prep (Self-Paced Tutorial) | $110 | Start preparing for CompTIA A+ certification as you learn PC basics and troubleshoot in a real world PC environment. |
| Basic Computer Skills Suite | $299 | Learn essential computer skills for the 21st century workplace, including how to troubleshoot PC issues! |
| Become a Physical Therapy Aide | $115 | Prepare for a rewarding career as a valued member of the physical therapy team. |
| Become a Veterinary Assistant | $115 | Practicing veterinarian prepares you to work in a veterinary office or hospital. |
| Become a Veterinary Assistant (Self-Paced Tutorial) | $115 | Learn what a veterinary assistant does in the veterinary office or hospital setting. |
| Become a Veterinary Assistant II: Canine Reproduction | $115 | Practicing veterinarian teaches you to manage the entire canine breeding cycle, from assessing the health of parents to puppy care. |
| Become a Veterinary Assistant III: Practical Skills | $115 | Learn the practical skills you'll need to be a valuable veterinary assistant or educated pet owner. |
| Become an Optical Assistant | $115 | Learn what it takes to become an optical assistant and discover why it's one of today's most popular and fascinating career opportunities. |
| Becoming a Grant Writing Consultant | $115 | Increase your income while working from home by starting a grant writing consulting business. |
| Beginner's Guide to Getting Published | $115 | Published writer shows you how to give yourself the credibility you need to get your books and articles published. |
| Beginning Conversational French | $100 | Discover how easy it can be to learn common words and phrases for both leisure and business. |
| Beginning Conversational French (Self-Paced Tutorial) | $100 | Discover how easy it can be to learn common French words and phrases. Beginning Conversational French introduces the French language to be used in both leisure and business. This course will help you master the best pronunciations by simply clicking on a word to hear it spoken. You will learn practical, common phrases that will make your trips to the many French-speaking regions of the world more pleasant. |
| Blogging and Podcasting for Beginners | $100 | Learn how to create your very own blog and add a podcast too using the tools that you already have available on your computer. |
| Blogging and Podcasting for Beginners (Self-Paced Tutorial) | $115 | Learn how to create your very own blog and podcast using the tools that you already have available on your computer. |
| Building Teams That Work | $115 | What are the secrets to managing successful teams in the workplace? Explore communication techniques and problem-solving skills that will help you get your team on track in no time. |
| Building Teams That Work (Self-Paced Tutorial) | $115 | What are the secrets to managing successful teams in the workplace? Explore communication techniques and problem-solving skills that will help you get your team on track in no time. |
| Business and Marketing Writing | $115 | Write great marketing copy to improve your company's image and your chances of getting hired or promoted. |
| Business Finance for Non-Finance Personnel | $115 | This course will help you understand business environments, financial statements, and strategy so you can make more profitable business and personal financial decisions. |
| Business Finance for Non-Finance Personnel (Self-Paced Tutorial) | $115 | This course will help you understand business environments, financial statements, and strategy so you can make more profitable business and personal financial decisions. |
| C# Programming Series | $199 | Learn the fundamentals of computer programming with C#, the in-demand and incredibly useful programming language that incorporates the best features of Visual Basic, C++, and Java. |
| Certificate in Brain Health | $66 | (10 contact hours) In this innovative certificate program, you'll gain insights into the amazing brain and learn how to support health and happiness through lifestyle choices that impact this remarkable organ. |
| Certificate in Complementary and Integrative Health | $144 | (24 contact hours) Enhance your professional marketability by gaining a broad understanding of complementary and integrative health care options. |
| Certificate in End of Life Care | $114 | (19 contact hours) The Certificate in End-of-Life Care will enhance the knowledge and skills of health care professionals and individuals who work with or care for those experiencing a terminal illness. |
| Certificate in Energy Medicine | $60 | (10 contact hours) Explore the use of healing energy medicine techniques in health care, including meditation, acupuncture, qigong, sound and music therapy, and gentle hand techniques such as Reiki and reflexology. |
| Certificate in Food, Nutrition, and Health | $96 | (16 contact hours) In this certificate program, you'll gain a holistic overview of current food and nutrition issues and their impact on physical, social, emotional, and spiritual health. |
| Certificate in Food, Nutrition, and Health (Self-Paced Tutorial) | $96 | In this informative course, you will gain a holistic view of current food and nutrition issues and their impact on physical, social, emotional, and spiritual health. |
| Certificate in Gerontology | $150 | (25 contact hours) Earn a certificate demonstrating that you possess the skills needed to meet the healthcare needs of a rapidly aging population. |
| Certificate in Gerontology (Self-Paced Tutorial) | $150 | Completing this informative course proves you possess the skills required to meet the health care needs of a rapidly aging population. |
| Certificate in Global Healing Systems | $78 | (13 contact hours) Deepen your knowledge of medical treatment by exploring alternative health care practices from India, China, Eastern Europe, and Central, North, and South America. |
| Certificate in Healing Environments for Body, Mind, and Spirit | $96 | (16 contact hours) In this innovative certificate program, you'll examine how Optimal Healing Environments (OHEs) impact the health of individuals and communities on a physical, social, psychological, and spiritual level. |
| Certificate in Healthy Aging | $65 | (10 contact hours) Gain an overview of aging, including the impact of nutrition and physical activity, changes in the healthy aging brain, and the role of sexuality in healthy aging. |
| Certificate in Holistic and Integrative Health | $198 | (33 contact hours) Explore the exciting, growing field of holistic and integrative health in this comprehensive certificate program designed for health care professionals and consumers. |
| Certificate in Holistic and Integrative Health: Foundations 1 | $84 | (14 contact hours) This certificate program focuses on foundational concepts in holistic and integrative health, including stress management, physical activity and movement, nutrition, and healing environments. |
| Certificate in Holistic and Integrative Health: Foundations 2 | $66 | (10 contact hours) In this four-lesson certificate program, you'll examine the healing systems of Ayurvedic and traditional Chinese medicine, explore the connection between health and the human spirit, and learn about ancient and diverse practices of meditation. |
| Certificate in Holistic and Integrative Health: Foundations 3 | $54 | (9 contact hours) In this certificate program, you'll explore the concepts of four holistic therapeutic modalities as you focus on the use of humor, music and sound, energy healing, and massage and bodywork in healing. |
| Certificate in Infectious Diseases and Infection Control | $78 | (13 contact hours) Designed for healthcare and medical professionals, this certificate program offers insights into common infectious diseases and procedures for controlling their spread. |
| Certificate in Integrative Mental Health | $120 | (20 contact hours) This groundbreaking certificate program offers a holistic, integrative approach to treating mental health problems. |
| Certificate in Legal and Ethical Issues in Healthcare | $72 | (12 contact hours) Explore the legal and ethical risks healthcare professionals face, including issues related to HIPPA rules, medication errors, social media and healthcare, organ donation, and workplace violence. |
| Certificate in Meditation | $68 | (8 contact hours) In this certificate program, you'll explore the many meditation techniques that can be used to support the mind-body connection and promote healing, health, and wellness. |
| Certificate in Mindfulness | $80 | (8 contact hours) In the Certificate in Mindfulness, you'll learn about mindfulness and meditation, mindfulness and happiness, mindful eating, mindful movement (walking, yoga, Tai Chi, and Qigong), and mindful relationships. |
| Certificate in Music Therapy and Sound Healing | $48 | (8 contact hours)This course will prepare you with the ability to describe the goals, interventions, and therapeutic uses and benefits of music therapy and sound healing. |
| Certificate in Nutrition, Chronic Disease, and Health Promotion | $100 | (12 contact hours) Learn about the impact of food politics, clean water, foodborne diseases, mood, genetically engineered foods, and malnutrition on health and the development of chronic diseases. |
| Certificate in Pain Assessment and Management | $72 | (12 contact hours) This certificate provides an overview of the mechanisms of pain, the multidisciplinary methods of assessment, management, and treatment of pain, which include adults, children, and the elderly with cancer related and non-cancer related pain. |
| Certificate in Perinatal Issues | $120 | (20 contact hours) The Certificate in Perinatal Issues is a multidisciplinary educational experience designed to enhance the knowledge and skills of individuals who provide care and support for childbearing women, newborns, and families. |
| Certificate in Spirituality, Health, and Healing | $210 | (25 contact hours) Enhance your professional marketability by recognizing the impact spiritual values and beliefs have on health and healing. |
| Certificate in Starting Your Own Business in Health and Healing | $66 | (11 contact hours) Learn virtually everything you need to know to start a health and wellness business, including marketing, financing, and creating a business plan. |
| Certificate in Stress Management | $84 | (14 contact hours) Explore the physiological, social, and psychological impacts of stress and study modalities to get stress under control. |
| Certificate in Violence Prevention and Awareness | $78 | (13 contact hours) Designed for medical professionals, this certificate program offers important insights into the signs of violence that may be presented by patients in a healthcare setting. |
| Certificate in Womens Health Issues | $84 | (14 contact hours) When womens health concerns, womens rights, and their empowerment are made a priority, the results include immense improvements in the health and well-being of women and their children on a global scale. |
| Common Core Standards for English Language Arts K-5 | $115 | Gain confidence in applying the Common Core State Standards for English Language Arts (reading, writing, speaking and listening, and language) to the K-5 classroom. |
| CompTIA Network+ Certification Prep | $110 | Prepare to take and pass the CompTIA Network+ Exam. |
| CompTIA Security+ Certification Prep 1 | $110 | Master the terms and concepts you need to pass the CompTIA Security+ SY0-501 exam and earn your Security+ certificate. |
| CompTIA Security+ Certification Prep 1 (Self-Paced Tutorial) | $110 | Master the terms and concepts you need to pass the CompTIA Security+ SY0-501 exam and earn your Security+ certificate. |
| CompTIA Security+ Certification Prep 2 | $110 | Continue to prepare for the CompTIA Security+ exam as you review the information you need to pass the test and earn this important certification. |
| Computer Networking Suite | $299 | Learn the fundamentals of networking and prepare for a career in an exciting and fast-growing field. |
| Computer Skills for the Workplace | $115 | Gain a working knowledge of the computer skills you'll need to succeed in today's job market. |
| Computer Skills for the Workplace (Self-Paced Tutorial) | $115 | Gain a working knowledge of the computer skills you will need to succeed in today's job market. |
| Content Literacy: Grades 6-12 | $115 | Learn practical strategies for incorporating reading, writing, and the other literacy skills outlined in the Common Core State Standards into your content area for adolescent students. |
| Conversational Japanese | $100 | Whether you want to learn conversational Japanese for travel or just for fun, you'll find this course makes it easy and enjoyable for beginners to master the essentials of the Japanese language. |
| Creating a Classroom Website | $115 | Learn how to create a classroom website and how having one can make you a more effective and dynamic teacher. |
| Creating a Successful Business Plan | $115 | Turn your business ideas into a solid plan for financing and long-term success. |
| Creating a Successful Business Plan (Self-Paced Tutorial) | $115 | Turn your business ideas into a solid plan for financing and long-term success. |
| Creating Classroom Centers | $115 | Learn how to create engaging, easy-to-maintain classroom center activities that boost independent learning while increasing small-group instruction time. |
| Creating Classroom Centers (Self-Paced Tutorial) | $115 | Learn how to create engaging, easy-to-maintain classroom center activities that boost independent learning while increasing small-group instruction time. |
| Creating Mobile Apps with HTML5 | $115 | Learn to use HTML5, CSS3, JavaScript, jQuery, and Web APIs to create cross-platform mobile apps and mashups. |
| Creating Mobile Apps with HTML5 (Self-Paced Tutorial) | $115 | Learn to use HTML5, CSS3, JavaScript, jQuery, and Web APIs to create cross-platform mobile apps and mashups. |
| Creating the Inclusive Classroom: Strategies for Success | $115 | In this professional development course for teachers, you'll get the training you need to reach the diverse mix of students you face every day--learning proven strategies that turn diversity into opportunity. |
| Creating Web Pages | $115 | Learn the basics of HTML so you can design, create, and post your very own site on the Web. |
| Creating Web Pages (Self-Paced Tutorial) | $115 | Learn the basics of HTML so you can design, create, and post your very own site on the Web. |
| Creating WordPress Websites | $115 | Discover how to easily create blogs and websites with WordPress, the world's most popular Web publisher. |
| Creating WordPress Websites (Self-Paced Tutorial) | $115 | Discover how to easily create blogs and websites with WordPress, the world's most popular Web publisher. |
| Creating WordPress Websites Series | $199 | This series of courses will take you from having zero experience and knowledge of web design to more advanced techniques. |
| Designing Effective Websites | $115 | Learn powerful graphic design techniques and build websites that are both attractive and wickedly effective. |
| Differentiated Instruction in the Classroom | $115 | Improve your ability to teach diverse learners with real-world examples from elementary, middle, and high school classrooms. |
| Differentiated Instruction in the Classroom (Self-Paced Tutorial) | $115 | Improve your ability to teach diverse learners with real-world examples from elementary, middle, and high school classrooms. |
| Differentiating K-12 Assessments | $115 | Learn effective strategies for differentiating your assessments and empowering every student in your class to succeed. |
| Digital Marketing Suite | $299 | Learn how to develop an Internet marketing plan, use popular social media platforms, and achieve higher positions with major search engines. |
| Discover Digital Photography | $100 | An informative introduction to the fascinating world of digital photography. |
| Discover Digital Photography (Self-Paced Tutorial) | $100 | An informative introduction to the fascinating world of digital photography. |
| Discover Sign Language | $100 | Discover the fun of learning sign language and using your hands to communicate. |
| Discover Sign Language (Self-Paced Tutorial) | $100 | Discover the fun of learning sign language and using your hands to communicate. |
| Distribution and Logistics Management | $115 | Learn how to improve your company's distribution and logistics management activities, increase customer satisfaction, and improve operational throughput. |
| Drawing for the Absolute Beginner | $100 | Gain a solid foundation in drawing and become the artist you've always dreamed you could be! |
| Educator's Fundamentals Series | $299 | Whether you're a new teacher or seasoned veteran, these fundamental courses will help you gain control of your classroom and more effectively teach all learner types. |
| Effective Business Writing | $115 | Improve your career prospects by learning how to develop powerful written documents that draw readers in and keep them motivated to continue to the end. |
| Effective Selling | $115 | Learn the secret to converting a potential customer into a long-term asset. Find out how to lay the groundwork for repeat business and your future success. |
| Employment Law Fundamentals | $115 | Learn the basics of employment law so you can legally hire, evaluate, and manage employees. |
| Empowering Students With Disabilities | $115 | Explore common disabilities youll encounter in the classroom and master techniques for promoting academic, behavioral, and social skills in students with special needs. |
| Empowering Students With Disabilities (Self-Paced Tutorial) | $115 | Explore common disabilities you will encounter in the classroom and master techniques for promoting academic, behavioral, and social skills in students with special needs. |
| Enhancing Language Development in Childhood | $115 | Enrich the lives of your children by learning fun and natural ways to help them become proficient speakers and thinkers. |
| Entrepreneurship Suite | $299 | Ready to start your own business? Let this discounted set of online courses hone your entrepreneurial spirit and help get your business going. |
| Event Planning Suite | $199 | Learn the secrets a caterer and how to create and coordinate successful special events so that you can be poised to produce any type of event. |
| Explore a Career as a Paralegal | $115 | Find out if a paralegal career is the perfect choice for you, as you explore the fundamentals of U.S. law and legal terminology. |
| Explore a Career as a Paralegal (Self-Paced Tutorial) | $115 | Find out if a paralegal career is the right career for you, as you explore the fundamentals of U.S. law and legal terminology. |
| Explore a Career as a Pharmacy Technician | $115 | Master the skills that will prepare you for an entry-level position as a pharmacy tech or clerk, and discover the steps you can take to become a Certified Pharmacy Technician (CPhT). |
| Explore a Career as an Administrative Medical Assistant | $115 | Learn all about the in-demand career of medical information management as you explore the job of an administrative medical assistant (AMA) in a doctors officefrom appointment scheduling and chart creation to medical billing and coding. |
| Explore a Career as an Administrative Medical Assistant (Self-Paced Tutorial) | $115 | Learn all about the in-demand career of medical information management as you explore the job of an administrative medical assistant (AMA) in a doctors officefrom appointment scheduling and chart creation to medical billing and coding. |
| Explore a Career in Healthcare Suite | $299 | If you're considering a career in healthcare, this group of online courses will introduce you to three different opportunities within the industry. |
| Explore a Career in Medical Coding | $115 | Learn how to use the CPT manual and the ICD-10-CM to find medical codes for any disease, condition, treatment, or surgical procedure. |
| Explore a Career in Medical Coding (Self-Paced Tutorial) | $115 | Learn how to use the CPT manual and the ICD-10-CM to find medical codes for any disease, condition, treatment, or surgical procedure. |
| Explore a Career in Medical Transcription | $115 | Learn how to transcribe the medical reports most often used in healthcare today, and discover how to get started and advance as a medical transcriptionist. |
| Explore a Career in Medical Transcription (Self-Paced Tutorial) | $115 | Learn how to transcribe the medical reports most often used in healthcare today, and discover how to get started and advance as a medical transcriptionist. |
| Explore a Career in Medical Writing | $115 | Take your first step toward a lucrative and rewarding career as a medical writer. |
| Explore a Career in Nursing | $115 | Learn what it takes to become an LPN or RN, and discover all of the exciting and rewarding opportunities awaiting you in the field of nursing. |
| Financial Analyst Suite | $395 | Master the skills and develop the knowledge you need to be successful as in Accounting and Business Analysis. |
| Front End Developer Suite | $299 | Learn to create state-of-the-art responsive Web sites using modern CSS3, HTML5, and JavaScript. Learn to build fully responsive websites optimized for mobile devices, smartphones, tablets, and desktop viewing environments. |
| Fundamentals of Supervision and Management | $115 | Learn the people skills required to motivate and delegate, and learn tools for solving problems and resolving conflicts. |
| Fundamentals of Supervision and Management (Self-Paced Tutorial) | $115 | Learn the people skills required to motivate and delegate, and learn tools for solving problems and resolving conflicts. |
| Fundamentals of Supervision and Management II | $115 | Learn how to be an effective manager or supervisor. Master the basics of communicating effectively, and learn tools for developing your own interpersonal skills. |
| Fundamentals of Technical Writing | $115 | Learn the skills you need to succeed in the well-paying field of technical writing. |
| Fundamentals of Technical Writing (Self-Paced Tutorial) | $115 | Learn the skills needed to work in the field of technical writing. |
| Genealogy Basics | $100 | Learn where to look, who to contact, and how to use research tools to begin an exciting and fascinating exploration of your roots. |
| Get Assertive! | $100 | Find out how you can stop others from intimidating you or treating you poorly. |
| Get Assertive! (Self-Paced Tutorial) | $100 | Find out how you can stop others from intimidating you or treating you poorly. |
| Get Funny! | $100 | Learn how to use humor to speak more effectively, write better, and increase your popularity. |
| Get Grants! | $115 | Learn how to develop successful, fundable grant proposals from experts in the field. |
| Global Health and Healing Bundle | $215 | The course objectives of the Global Health and Healing Bundle are to offer health care professionals an overview of how alternative practices differ from conventional medical systems and learn the basic techniques and procedures for preventing the transmission of infectious disease. |
| GMAT Preparation | $100 | Discover powerful test-taking techniques and methods for improving your score on the GMAT. |
| Grammar for ESL | $115 | If English is your second language and you're headed to college, this course will teach you the principles of grammar and structure you'll need to succeed. |
| Grammar Refresher | $100 | Develop your English grammar skills and take your writing and speaking to the next level of excellence in this course. |
| Grammar Refresher (Self-Paced Tutorial) | $100 | Develop your English grammar skills and take your writing and speaking to the next level of excellence in this course. |
| Grammar Refresher II | $100 | Take your grammar and language mechanics skills to the next level, and master the building blocks of effective writing. |
| Grammar Refresher II (Self-Paced Tutorial) | $100 | Take your grammar and language mechanics skills to the next level, and master the building blocks of effective writing. |
| Grammar Refresher Series | $199 | These online courses will help you gain confidence in your ability to produce clean, grammatically correct work. |
| Grant Writing Suite | $299 | Learn everything you need to know to start writing grant proposals and consult or volunteer for non-profit, public foundations. |
| GRE Prep Series | $199 | With GRE Preparation Part 1 and Part 2, you'll be prepared for all aspects of the computerized GRE revised General Test. |
| GRE Preparation - Part 1 (Verbal and Analytical) | $100 | Discover powerful strategies for success in the verbal reasoning and analytical writing sections of the GRE revised General Test (course 1 of 2). |
| GRE Preparation - Part 1 (Verbal and Analytical) (Self-Paced Tutorial) | $100 | Discover powerful strategies for success in the verbal reasoning and analytical writing sections of the GRE revised General Test (course 1 of 2). |
| GRE Preparation - Part 2 (Quantitative) | $100 | Learn a variety of useful techniques for tackling the quantitative reasoning sections of the computerized GRE revised General Test (Course 2 of 2). |
| GRE Preparation - Part 2 (Quantitative) (Self-Paced Tutorial) | $100 | Learn a variety of useful techniques for tackling the quantitative reasoning sections of the computerized GRE revised General Test (Course 2 of 2). |
| Growing Plants for Fun and Profit | $100 | An industry professional teaches you everything you need to prosper in the backyard nursery business. |
| Guided Reading and Writing: Strategies for Maximum Student Achievement | $115 | Get the professional development training you need to improve student literacy as an accomplished teacher shares the secrets of turning guided reading strategies into opportunities for teaching writing. |
| Guided Reading and Writing: Strategies for Maximum Student Achievement (Self-Paced Tutorial) | $115 | Get the professional development training you need to improve student literacy. |
| Guided Reading: Strategies for the Differentiated Classroom | $115 | Learn creative ways to bring differentiated instruction and guided reading to life in your classroom. |
| Guided Reading: Strategies for the Differentiated Classroom (Self-Paced Tutorial) | $115 | Learn creative ways to bring differentiated instruction and guided reading to life in your classroom. |
| Handling Medical Emergencies | $115 | This course will identify common medical emergencies affecting children and adults, help you recognize signs and symptoms, and teach you how to render appropriate emergency care. |
| Handling Medical Emergencies (Self-Paced Tutorial) | $115 | This course will teach you how to identify common medical emergencies, recognize signs and symptoms, and how to render appropriate emergency care. |
| Happy and Healthy Pregnancy | $100 | In this course, you'll learn how the stages of pregnancy affect your body, emotions, and budget, and how to prepare yourself and your family to welcome your new baby. |
| Health and Well-Being Bundle | $399 | The course objective is to offer health professionals a broad understanding of the various therapies of Complementary, Holistic, and Integrative Health and stay current with emerging trends as they work with diverse, growing populations. |
| Health Care Entrepreneurship Bundle | $118 | The course objectives of the Health Care Entrepreneurship Bundle are to offer health care professionals an overview of how to start their own business and understand the legal and ethical risks that result from factors in the medical industry. |
| Healthy Living Suite | $299 | In this program youll learn how to establish a healthy approach to successful weight loss and weight maintenance for a lifetime. You'll learn how to save money and prepare home-cooked meals that are fast, easy, and delicious, and how to grow nutritious fruit and vegetables that can be used in your meals. |
| Healthy Relationships Suite | $299 | In this course, you will learn the Keys to Success inMarriage and Relationships,which targets how tobuild a solid foundation for your relationship that is lasting. Interpersonal Communicationwill show you how to manage the conscious and unconscious codes we send to each other, and how to respond. Lastly in this course bundle, you will learnIndividual Excellence which developscareer-enhancing skills, creative abilities, confidence and personal organization. |
| Helping Elderly Parents | $100 | Be prepared to handle the challenges you and your parents will face in the coming years, while learning to cherish the transition. |
| High Performance Organization | $115 | This course will teach you how to turn your company into a High-Performance Organization (HPO), which can help to increase profits, a high rate of success, and become a desirable workplace. |
| High Speed Project Management | $115 | Learn to deal with the realities of managing projects at supersonic speeds despite truncated timelines, inadequate staffing, and skimpy budgets. |
| HIPAA Compliance | $115 | Learn how to comply with the duties, rights, and responsibilities of HIPAA, ARRA HITECH. |
| Homeschool With Success | $100 | Discover how to homeschool your children in a way that ensures they get what they need both academically and socially. |
| How to Get Started in Game Development | $115 | Take steps toward a new career in game development by building a foundation to design games in a wide variety of genres for different audiences and platforms. |
| How to Make Money From Your Writing | $115 | You really can make money with your writing. Whether you want to create your own business, add to your income, supplement your retirement, or boost what you're earning as a writer, you'll find the how-to's here. |
| HTML and CSS Series | $299 | Learn to use CSS3 and HTML5 to create professional-quality websites for desktops, laptops, and mobile devices. |
| Human Anatomy and Physiology | $115 | Gain a greater appreciation and understanding of the marvelous complexity of the human body. |
| Human Anatomy and Physiology (Self-Paced Tutorial) | $115 | Gain a greater appreciation and understanding of the marvelous complexity of the human body. |
| Human Anatomy and Physiology II | $115 | Learn the basic characteristics of the four main types of tissues, the general and special senses, cellular metabolism, body chemistry, and significant events in the life span, from fertilization through old age. |
| Human Physiology Series | $199 | Understand the intricacies and inner workings of the human body in this two-part series. |
| Human Resource Management Suite | $299 | These courses will teach you how to handle basic human resource functions, how to attract and retain top talent to be competitive in the global marketplace, as well as how to turn your company into a high performance workplace to increase profits, achieve a high rate of success, and become a desirable workplace. |
| Individual Excellence | $115 | Master twelve career-enhancing skills including goal setting, time management, personal organization, and creativity. |
| Individual Excellence (Self-Paced Tutorial) | $115 | Master twelve career-enhancing skills including goal setting, time management, personal organization, and creativity. |
| Instant Italian | $100 | This dynamic course will teach you how to express yourself comfortably in Italian. You'll read, hear, and practice dialogues of everyday words which will teach you to communicate in a wide variety of settings. |
| Integrating Technology in the Classroom | $115 | In this professional development course for teachers, you'll learn the secrets of technology integration in the classroom and across the curriculum, gaining the skills educators need to use tools such as apps, assistive technology, wikis, podcasts, and blogs effectively. |
| Integrating Technology in the Classroom (Self-Paced Tutorial) | $115 | In this professional development course for teachers, you will learn about technology integration in the classroom and gain the skills needed to use tools like apps, assistive technology, and blogs effectively. |
| Intermediate C# Programming | $115 | Learn to write Graphical User Interface programs in the C# Programming Language. |
| Intermediate CompTIA A+ Certification Prep | $110 | Take the second step toward becoming a CompTIA A+ certified tech by mastering virtualization, multifunction devices, three flavors of Windows, plus macOS and Linux operating systems. |
| Intermediate CompTIA A+ Certification Prep (Self-Paced Tutorial) | $110 | Take the next step to becoming a CompTIA A+ certified tech by mastering virtualization, multifunction devices, macOS and Linux operating systems, and three aspects of Windows. |
| Intermediate CSS3 and HTML5 | $115 | Take your CSS3 and HTML5 skills to the next level and learn how to create professional-quality websites. |
| Intermediate InDesign CC | $115 | Learn to use advanced features in Adobe InDesign Creative Cloud (CC) to produce professional brochures, forms, and documents. |
| Intermediate Java Programming | $115 | Deepen your understanding of the Java programming language, and start writing programs that are more sophisticated and professional. |
| Intermediate Microsoft Access 2010 | $115 | Learn how to build more intuitive and powerful Microsoft Access 2010 databases. |
| Intermediate Microsoft Access 2013 | $115 | Learn how to use Microsoft Access 2013's advanced features to build more intuitive and powerful databases. |
| Intermediate Microsoft Access 2016 | $129 | Master more advanced techniques for this powerful database program, including importing Excel spreadsheets as tables, creating query calculations to crunch numbers, and using Visual Basic to automate common tasks. |
| Intermediate Microsoft Excel 2007 | $115 | Master advanced features of Microsoft Excel 2007, including charting and PivotTables, and discover how this powerful MS Office program can boost your productivity. |
| Intermediate Microsoft Excel 2010 | $115 | Take your Microsoft Excel 2010 skills to the next level as you master charts, PivotTables, Slicers, Sparklines, and other advanced Excel features. |
| Intermediate Microsoft Excel 2010 (Self-Paced Tutorial) | $115 | Take your Microsoft Excel 2010 skills to the next level as you master charts, graphs, PivotTables, Slicers, Sparklines, AutoFilter, macros, and other advanced Excel functions. |
| Intermediate Microsoft Excel 2013 | $115 | Take your Microsoft Excel 2013 skills to the next level as you master charts, graphs, PivotTables, Slicers, Sparklines, AutoFilter, macros, and other advanced Excel functions. |
| Intermediate Microsoft Excel 2013 (Self- Paced Tutorial) | $115 | Take your Microsoft Excel 2013 skills to the next level as you master charts, graphs, PivotTables, Slicers, Sparklines, AutoFilter, macros, and other advanced Excel functions. |
| Intermediate Microsoft Excel 2016 | $129 | Take your Microsoft Excel 2016 skills to the next level as you master charts, graphs, PivotTables, Slicers, Sparklines, AutoFilter, macros, and other advanced Excel functions. |
| Intermediate Microsoft Excel 2016 (Self-Paced Tutorial) | $129 | Take your Microsoft Excel 2016 skills to the next level as you master charts, graphs, PivotTables, Slicers, Sparklines, AutoFilter, macros, and other advanced Excel functions. |
| Intermediate Microsoft Word 2007 | $115 | Learn more advanced features of Microsoft Word 2007, which enable you to create an index, a list of figures, and a table of contents, do desktop publishing, perform a mail merge, and use timesaving macros. |
| Intermediate Microsoft Word 2010 | $115 | Master the more advanced features of Microsoft Word 2010 and learn how to create an index, build a list of figures, design a table of contents, do desktop publishing, perform a mail merge, and use timesaving shortcuts. |
| Intermediate Microsoft Word 2013 | $115 | Learn how to use the advanced features of this desktop publishing program to add graphics to a document, merge data into form letters, and use macros and shortcuts to make using Word easier and faster. |
| Intermediate Microsoft Word 2016 | $129 | Learn how to use the more advanced features of Microsoft Word 2016 (now available through Office 365) including how to add graphics, use templates, and merge data. |
| Intermediate Networking | $115 | Gain practical experience in a hot new career field. Topics include VPNs, security, and Internet connectivity. |
| Intermediate Oracle | $115 | Learn how to write powerful and flexible PL/SQL programs. |
| Intermediate Photoshop CC | $115 | Explore the more advanced features of Intermediate Photoshop CC so you can re-edit photos and graphics, resize images, and create reusable page layout templates. |
| Intermediate Photoshop CS5 | $115 | Take your Adobe Photoshop CS5 skills to the next level by mastering layers, layer masks, Smart Objects, and other advanced features that let you re-edit images easily long after you create them. |
| Intermediate Photoshop CS6 | $115 | Extend your Photoshop knowledge and learn how to enhance graphics by using layers, layer masks, and other advanced photo-editing features. |
| Intermediate PHP and MySQL | $115 | Learn how to create a dynamic, interactive online store using advanced PHP techniques and a MySQL database server. |
| Intermediate QuickBooks 2013 | $115 | Master the advanced features of QuickBooks and learn to manage multiple company files, create customer statements, enter price levels for inventory, and much more. |
| Intermediate QuickBooks 2014 | $115 | Master the advanced features of QuickBooks and learn to manage multiple company files, create customer statements, enter price levels for inventory, and much more. |
| Intermediate QuickBooks 2015 | $115 | This course covers QuickBooks' more advanced features and applications, including how to enter price levels for inventory, track discounts and credits, and manage journal entries. |
| Intermediate QuickBooks 2016 | $119 | Master QuickBooks' more advanced functions, such as exporting and importing list data, using batch invoicing to create multiple invoices, and managing journal entries. |
| Intermediate QuickBooks 2017 | $119 | Go beyond the basic introductory concepts and learn how to gain more control and improve productivity while using QuickBooks. |
| Intermediate QuickBooks 2017 (Self-Paced Tutorial) | $119 | Go beyond the introductory concepts of QuickBooks and learn how to gain more control and improve productivity with this powerful accounting software. |
| Intermediate QuickBooks 2018 | $119 | Go beyond the basic introductory concepts and learn how to gain more control and improve productivity while using QuickBooks. |
| Intermediate SQL | $115 | Expand your knowledge of Structured Query Language (SQL), the industry standard database programming language. |
| Intermediate Visual Basic | $115 | Gain in-demand VB skills writing sophisticated Windows programs that access and modify business databases. |
| Intermediate WordPress Websites | $115 | Discover how to add features to and customize websites built with WordPress, the world's most popular Web publishing platform. |
| Intermediate WordPress Websites (Self-Paced Tutorial) | $115 | Discover how to add features to and customize websites built with WordPress, the world's most popular Web publishing platform. |
| Interpersonal Communication | $100 | Become aware of the conscious and unconscious codes of meaning we send when communicating with others. |
| Interpersonal Communication (Self-Paced Tutorial) | $100 | Become aware of the conscious and unconscious codes of meaning we send when communicating with others. |
| Introduction to Adobe Acrobat X | $115 | Learn how to use Adobe Acrobat X to create PDF files and take advantage of its many time-saving features, communication options, and forms. |
| Introduction to Algebra | $115 | Understand how algebra is relevant to almost every aspect of your daily life, and become skilled at solving a variety of algebraic problems. |
| Introduction to Algebra (Self-Paced Tutorial) | $115 | Understand how algebra is relevant to every aspect of your daily life and become skilled at solving a variety of algebraic problems. |
| Introduction to Biology | $115 | Learn how cells and DNA determine the structure and function of the human body and get a foundation for a career in the healthcare or medical professions. |
| Introduction to Business Analysis | $115 | Learn powerful techniques to improve your decision-making skills at work. |
| Introduction to C# Programming | $115 | Learn the fundamentals of computer programming with the new C# programming language. |
| Introduction to C# Programming (Self-Paced Tutorial) | $115 | Learn the fundamentals of computer programming with the new C# programming language. |
| Introduction to C++ Programming | $115 | Learn to program in C++, even if you have no prior programming experience! |
| Introduction to Chemistry | $115 | Gain a solid foundation in the basics of chemistry and see how everything that goes on in your body depends on a chemical reaction. |
| Introduction to Criminal Law | $115 | An in-depth look at criminal law and the real world of prosecutors, defense attorneys, and the paralegals who work closely with them. |
| Introduction to Cryptography (Self-Paced Tutorial) | $59 | This course covers the fundamentals of cryptography and provides a hands-on experience using live virtual machine labs, lab simulations, and case projects. |
| Introduction to Crystal Reports | $115 | Learn how to use Crystal Reports to create attractive business documents that are easy to read and understand. |
| Introduction to CSS3 and HTML5 | $115 | Learn to create state-of-the-art Web sites using modern CSS3 and HTML5 techniques. |
| Introduction to CSS3 and HTML5 (Self-Paced Tutorial) | $115 | Learn to create state-of-the-art websites using modern CSS3 and HTML5 techniques. |
| Introduction to Database Development | $115 | An experienced professional guides you through a structured approach to database design and development. |
| Introduction to Digital Scrapbooking | $100 | Learn how to make the most of your scrapbooking talents and artistic ideas when you combine digital and traditional scrapbooking techniques. |
| Introduction to Google Analytics | $115 | Learn how to track and generate traffic to your website, create reports, and analyze data with Google's free, state-of-the-art Web analytics tools. |
| Introduction to Guitar | $100 | Master basic guitar skills and become the musician you've always wanted to be. |
| Introduction to Illustrator CS6 | $115 | Learn to design and draw vector art, work with shape gradients, and manipulate color images using Adobe Illustrator CS6. |
| Introduction to Illustrator CS6 (Self-Paced) | $115 | Learn to design and draw vector art, work with shape gradients, and manipulate color images using Adobe Illustrator CS6. |
| Introduction to InDesign CC | $115 | Learn how to use Adobe InDesign CC software to create professional-quality letterhead, brochures, forms, eBooks, business materials and more. |
| Introduction to InDesign CC (Self-Paced Tutorial) | $115 | Learn how to use Adobe InDesign CC software to create professional-quality letterhead, brochures, forms, eBooks, business materials and more. |
| Introduction to InDesign CS6 | $115 | Learn how to use Adobe InDesign CS6, the industry-standard desktop publishing software program, to design professional-quality letterheads, brochures, eBooks, and more. |
| Introduction to Interior Design | $115 | Explore a career in interior design as you learn how to transform any room into a beautiful and functional space. |
| Introduction to Internet Writing Markets | $115 | A professional writer shows you how to make money writing on the Internet. |
| Introduction to Java Programming | $115 | An experienced Java programmer introduces important Java topics with clear, step-by-step instructions. |
| Introduction to Java Programming (Self-Paced Tutorial) | $115 | Learn about Java topics with clear, step-by-step instructions developed by an experienced Java programmer. |
| Introduction to JavaScript | $115 | Build on your knowledge of HTML and CSS by learning to add interactivity to your Web pages with JavaScript code and jQuery. |
| Introduction to Journaling | $100 | Discover how journaling can help you learn more about yourself, explore your dreams, values, and beliefs, improve your health, survive unwanted change, succeed in your career, and express your creativity. |
| Introduction to Lightroom 5 | $115 | Learn how to use the tools in Adobe Photoshop Lightroom 5 to organize and edit your images, fine-tune lighting and color, and develop an efficient image processing workflow. |
| Introduction to Lightroom Classic CC | $115 | Learn to use the tools in Adobe Photoshop Lightroom Classic CC for the cloud to organize and edit your images, fine-tune lighting and color, and develop an efficient image-processing workflow. |
| Introduction to Microsoft Access 2010 | $115 | Learn to build, edit, and maintain a database in Access 2010, using tables, reports, forms, and queries to give you fast access to all your important information. |
| Introduction to Microsoft Access 2010 (Self-Paced Tutorial) | $115 | Learn to build, edit, and maintain a database in Microsoft Access 2010, using tables, reports, forms, and queries to give you fast access to all your important information. |
| Introduction to Microsoft Access 2013 | $115 | Learn to build, edit, and maintain a database in Microsoft Access 2013, complete with tables, reports, forms, macros, and queries to give you fast access to all your important information. |
| Introduction to Microsoft Access 2013 (Self-Paced Tutorial) | $115 | Learn to build, edit, and maintain a database in Microsoft Access 2013, using tables, reports, forms, and queries to give you fast access to all your important information. |
| Introduction to Microsoft Access 2016 | $129 | Learn to build, edit, and maintain a database in Microsoft Access 2016, complete with tables, reports, forms, macros, and queries to give you fast access to all your important information. |
| Introduction to Microsoft Excel 2007 | $115 | Work with numbers? You need to know Excel. Learn the secrets of this powerful application. |
| Introduction to Microsoft Excel 2007 (Self-Paced Tutorial) | $115 | Work with numbers? You need to know Excel. This course will help you master this powerful application. |
| Introduction to Microsoft Excel 2010 | $115 | Become proficient in using Microsoft Excel 2010 and discover dozens of shortcuts and tricks for setting up fully formatted worksheets quickly and efficiently. |
| Introduction to Microsoft Excel 2010 (Self-Paced Tutorial) | $115 | Discover dozens of shortcuts and tricks that can make you proficient in Microsoft Excel 2010. |
| Introduction to Microsoft Excel 2013 | $115 | Become proficient in using Microsoft Excel 2013 and discover countless shortcuts, tricks, and features for creating and formatting worksheets quickly and efficiently. |
| Introduction to Microsoft Excel 2013 (Self-Paced Tutorial) | $115 | Become proficient in Microsoft Excel 2013 by discovering countless shortcuts, tricks, and features. |
| Introduction to Microsoft Excel 2016 | $129 | Become proficient in using Microsoft Excel 2016 (now available through Office 365) and discover how to create worksheets, workbooks, charts, and graphs quickly and efficiently |
| Introduction to Microsoft Excel 2016 (Self-Paced Tutorial) | $129 | Discover how to create worksheets, workbooks, charts, and graphs quickly and efficiently in Microsoft Excel 2016, now available through Office 365. |
| Introduction to Microsoft Excel 2019/Office 365 | $129 | If you work with data of any kind, knowing how to create a spreadsheet is key to effectively managing and organizing information. This course will introduce you to Microsoft Excel 2019 and teach you how to use this powerful software. |
| Introduction to Microsoft Outlook 2010 | $115 | Take control over your meetings, emails, and to-do lists by mastering the essentials of Microsoft Outlook 2010. |
| Introduction to Microsoft Outlook 2013 | $115 | Get up to speed with the latest developments in Outlook, including how to manage your email, calendar, and contacts and how to get the most out of program tools such as Search Folders and Quick Steps. |
| Introduction to Microsoft PowerPoint 2010 | $115 | Learn how to use Microsoft PowerPoint 2010 to create exciting slide presentations that include SmartArt, multimedia, animation, sound, charts, clip art, and hyperlinks. |
| Introduction to Microsoft PowerPoint 2013 | $115 | Learn how to use Microsoft PowerPoint 2013 to create animated presentations formatted with color, text, pictures shapes, charts, and text and object hyperlinks. |
| Introduction to Microsoft PowerPoint 2016 | $129 | Learn how to use Microsoft PowerPoint 2016 (now available through Office 365) to create professional-looking presentations using slide and layout masters that make global changes in a snap. |
| Introduction to Microsoft Project 2010 | $115 | Discover how to effectively plan, implement, and control projects using Microsoft Project 2010, the world's most popular project management software. |
| Introduction to Microsoft Project 2013 | $115 | Discover how to effectively plan, implement, manage, and control projects using the world's most popular project management software. |
| Introduction to Microsoft Project 2016 | $129 | Use this popular project management software to plan, implement, and control projects, track costs and resources, and generate reports using Gantt Chart and Calendar views. |
| Introduction to Microsoft Publisher 2010 | $115 | Learn how to design professional publications, including newsletters, fliers, and brochures, with Microsoft Publisher 2010. |
| Introduction to Microsoft Publisher 2013 | $115 | Learn how to design professional publications, including newsletters, fliers, and brochures, with Microsoft Publisher 2013. |
| Introduction to Microsoft Word 2007 | $115 | Learn how to create and modify documents with the world's most popular word processor. |
| Introduction to Microsoft Word 2010 | $115 | Learn how to create and modify documents using Microsoft Word 2010, the world's most popular word processing program. |
| Introduction to Microsoft Word 2013 | $115 | Master the basic features of this powerful word-processing program to professionally type, edit, and format text, and spell check and print documents. |
| Introduction to Microsoft Word 2013 (Self-Paced Tutorial) | $115 | Master the basic features of this powerful word-processing program to professionally type, edit, and format text, and spell check and print documents. |
| Introduction to Microsoft Word 2016 | $129 | Learn to use the basic features of Word 2016 (now available through Office 365) to type, edit, format, spell check, and print professional-looking documents, letters, and reports. |
| Introduction to Microsoft Word 2016 (Self-Paced Tutorial) | $129 | Learn to use the basic features of Word 2016 to type, edit, format, spell check, and print professional-looking documents, letters, and reports. |
| Introduction to Mobile Security (Self-Paced Tutorial) | $59 | This course covers the fundamentals of mobile security and provides a hands-on experience through the use of live virtual machine labs, lab simulations, and case projects. |
| Introduction to Natural Health and Healing | $100 | Learn how to promote wellness, balance, and health in daily life as the various stages of health and illness are explored along with discovering how true health, means wholeness of the mind, body, and spirit. |
| Introduction to Natural Health and Healing (Self-Paced Tutorial) | $100 | Learn how to promote wellness, balance, and health in daily life as the various stages of health and illness are explored along with discovering how true health, means wholeness of the mind, body, and spirit. |
| Introduction to Networking | $115 | Learn the fundamentals of networking and prepare for a career in a new and fast-growing field. |
| Introduction to Networking (Self-Paced Tutorial) | $115 | Learn the fundamentals of networking and prepare for a career in a new and fast-growing field. |
| Introduction to Nonprofit Management | $115 | Develop the skills and strategies you need to become an integral part of one of America's fastest growing service sectors. |
| Introduction to Oracle | $115 | Learn how to use the Oracle database management system to plan, organize, and manage your data. |
| Introduction to PC Security | $115 | Security expert teaches the fundamentals of PC and network security. |
| Introduction to PC Security (Self-Paced Tutorial) | $115 | Learn the fundamentals of PC and network security from this expert-developed course. |
| Introduction to PC Troubleshooting | $115 | Learn to decipher and solve almost any problem with your PC. |
| Introduction to Photoshop CC | $115 | Learn how to use Adobe Photoshop CC, the world's best graphics program, to edit and process photos and create original images. |
| Introduction to Photoshop CC (Self-Paced Tutorial) | $115 | Learn how to use Adobe Photoshop CC, the world's best graphics program, to edit and process photos and create original images. |
| Introduction to Photoshop CS5 | $115 | Learn how to use Adobe Photoshop CS5, the world's best graphics program, to edit and process photos and create original images. |
| Introduction to Photoshop CS6 | $115 | Learn how to use Photoshop CS6, the world's best graphics program for photographers, to edit photos and create original images. |
| Introduction to PHP and MySQL | $115 | Learn how to create dynamic, interactive Web sites using PHP and a MySQL database server. |
| Introduction to Programming | $115 | Take your first steps toward a career as a computer programmer as you master basic programming concepts and get hands-on practice in writing applications containing GUIs, sound, and graphics. |
| Introduction to Python 2.5 Programming | $115 | Learn the fundamentals of computer programming in Python with topics that include basic decisions and loops, advanced data structures, object-oriented programming, and graphical user interfaces. |
| Introduction to Python 3 Programming | $115 | Enhance your rsum by adding Python to your programming skills. |
| Introduction to Python 3 Programming (Self-Paced Tutorial) | $115 | Enhance your professional profile by adding Python to your programming skills. |
| Introduction to QuickBooks 2013 | $115 | Learn how to quickly and efficiently gain control of the financial aspects of your business with this powerful accounting software program. |
| Introduction to QuickBooks 2014 | $115 | Gain control of your business as you learn to use this powerful accounting software to create and print invoices, track your payables and receivables, and more. |
| Introduction to QuickBooks 2015 | $119 | Learn how to quickly and efficiently gain control over the financial aspects of your business using this powerful software program. |
| Introduction to QuickBooks 2015 (Self-Paced Tutorial) | $119 | With the powerful QuickBooks 2015 software, you can quickly and efficiently gain control over the financial aspects of your business. |
| Introduction to QuickBooks 2016 | $119 | Gain control of the financial accounting of your business using this powerful software program, including how to create statements and invoices and track payables and receivables. |
| Introduction to QuickBooks 2016 (Self-Paced Tutorial) | $119 | Learn how to gain control of your business financial accounting using this powerful software program, including how to create statements and invoices and track payables and receivables. |
| Introduction to QuickBooks 2017 | $119 | Learn how to quickly and efficiently gain control over the financial aspects of your business. |
| Introduction to QuickBooks 2017 (Self-Paced Tutorial) | $119 | Learn how to quickly and efficiently gain control over the financial aspects of your business using QuickBooks 2017. |
| Introduction to QuickBooks 2018 | $119 | Learn how to quickly and efficiently gain control over the financial aspects of your business. |
| Introduction to QuickBooks Online | $115 | Use this cloud-based accounting program to record income and expenses; enter checks and credit card payments; track your payables, inventory, and receivables; and much more. |
| Introduction to QuickBooks Online (Self-Paced Tutorial) | $115 | Learn to use QuickBooks Online to record income and expenses; enter checks and credit card payments; track your payables, inventory, and receivables; and much more. |
| Introduction to Screenwriting | $115 | Learn everything you need to know to write a great script, from structure, character creation, and dialogue to marketing and selling your screenplay. |
| Introduction to SQL | $115 | Gain a solid working knowledge of the most powerful and widely used database programming language. |
| Introduction to Statistics | $115 | Improve your understanding of data and learn how to develop graphs and charts so you can use this information to make better decisions. |
| Introduction to Statistics (Self-Paced Tutorial) | $115 | Improve your understanding of data and learn how to develop graphs and charts. |
| Introduction to Stock Options | $115 | Learn how stock options can protect your portfolio and help you profit in any type of market. |
| Introduction to Visual Basic | $115 | Learn how to write code for Windows applications using the Visual Basic programming language and development environment. |
| Introduction to Windows 10 | $115 | Learn to use this powerful new operating system, including how to customize your desktop, manage files and folders, and navigate the Web with the new Microsoft Edge browser. |
| Introduction to Windows 10 (Self-Paced Tutorial) | $115 | Learn to use this powerful new operating system, including how to customize your desktop, manage files and folders, and navigate the Web with the new Microsoft Edge browser. |
| Introduction to XML | $115 | Master the essentials of programming in XML and learn to control formatting, display graphics, manage XML documents, and much more. |
| Java Developer Suite | $299 | Master the essentials of programming in Java and XML. Learn object-oriented programming and user interface design in the Java programming language. Learn to control formatting, display graphics, and manage documents in XML. |
| Java Programming Series | $199 | Learn Java programming, one of the most widely used computer languages, in this discounted series of courses. |
| Keyboarding | $100 | Learn how to touch-type or improve your existing typing skills using Keyboarding Pro 5. |
| Keyboarding (Self-Paced Tutorial) | $100 | Learn how to touch-type or improve your existing typing skills using Keyboarding Pro 5. |
| Keys to Effective Communication | $100 | Lost for words? Don't be! Learn to build rapport, trust, warmth, and respect through conversation. |
| Keys to Effective Communication (Self-Paced Tutorial) | $100 | Lost for words? Don't be! Learn to build rapport, trust, warmth, and respect through conversation. |
| Keys to Successful Money Management | $100 | Certified financial planner shows you how most wealthy people build their fortunes. |
| Leadership | $115 | Gain the respect and admiration of others, exert more control over your destiny, and enjoy success in your professional and personal life. |
| Leadership (Self-Paced Tutorial) | $115 | Gain the respect and admiration of others, exert more control over your destiny, and enjoy success in your professional and personal life. |
| Leadership Suite | $395 | Leading a team requires a unique ability to manage teams, make decisions, and work with a variety of personalities. Learn all of these skills in the Leadership Suite. |
| Learn to Buy and Sell on eBay | $100 | Auction pros teach you how to work from home or earn extra income by buying and selling goods online. |
| Legal Nurse Consulting | $115 | Begin a new career by helping attorneys understand and resolve medical cases and claims. |
| Listen to Your Heart, and Success Will Follow | $100 | Design a life that makes you happy by learning how you can use work to express yourself and share your interests and talents. |
| Lose Weight and Keep It Off | $100 | Discover how to establish a healthy approach to successful weight loss and weight maintenance for a lifetime. |
| LPI Linux Essentials Exam Prep | $115 | Master the Linux operating system using both the graphical desktop and the text-based command line environments and prepare for the Linux Professional Institute (LPI) Linux Essentials exam. |
| LSAT Preparation - Part 1 | $100 | Learn about law school entrance procedures, developing analytical reasoning skills, and improving your test-taking skills (course 1 of 2). |
| LSAT Preparation - Part 2 | $100 | Improve your reading comprehension and logical reasoning skills, and discover proven approaches for selecting correct exam answers (course 2 of 2). |
| Luscious, Low-Fat, Lightning-Quick Meals | $100 | Join a registered dietitian and discover how easy it can be to prepare meals that are both delicious and nutritious! |
| Managing Customer Service | $115 | Become indispensable to any organization by understanding how to identify and meet customer needs. |
| Manufacturing Applications | $115 | Increase efficiencies and productivity by learning to apply the principles and concepts of manufacturing. |
| Manufacturing Fundamentals | $115 | Learn the basic skills required to work in the manufacturing field. |
| Marketing Your Business on the Internet | $115 | Develop an Internet marketing plan for your business that incorporates SEO, advertising, email, social media, and more. |
| Marketing Your Nonprofit | $115 | Further the ideals and goals of your nonprofit by learning to compete more effectively for members, media attention, donors, clients, and volunteers. |
| Marriage and Relationships: Keys to Success | $115 | Getting married is just the first step! Learn how to build a solid foundation for a healthy partnership that will last far beyond ""I do."" |
| Mastering Public Speaking | $115 | Learn the secrets of effective public speaking and small group communication. |
| Mastering Your Digital SLR Camera | $100 | Take your photography to the next level with your digital SLR camera by learning how to master lenses, apertures, shutter speed, exposure settings, and more. |
| Mastering your Digital SLR Camera (Self-Paced Tutorial) | $100 | Take your photography to the next level by learning how to master lenses, apertures, shutter speed, exposure settings, and more on your digital SLR camera. |
| Mastery of Business Fundamentals | $115 | Acquire practical experience in strategic planning, management, and finance without enrolling in an MBA program. |
| Math Refresher | $115 | Gain confidence in your basic math skills and start using math to your advantage. |
| Math Refresher (Self-Paced Tutorial) | $115 | Gain confidence in your basic math skills and start using math to your advantage. |
| Medical Math | $115 | Master the math skills you need to succeed in the medical field ranging from calculating dosages to using scientific formulas. The hands-on activities in this course will help you perform day-to-day math tasks quickly and easily. |
| Medical Math (Self-Paced Tutorial) | $115 | Master the math skills you need to succeed in the medical field ranging from calculating dosages to using scientific formulas. The hands-on activities in this course will help you perform day-to-day math tasks quickly and easily. |
| Medical Office Basics Suite | $395 | In this program youll learn the knowledge and skills you need to jump start your career in a variety of medical offices. This multi-course program includes Medical Terminology, Medical Math skills, Compliance of Health Insurance Portability and Accountability Act (HIPAA), and Spanish for Medical Professionals. |
| Medical Spanish Series | $199 | Communicate more effectively with Spanish-speaking patients after taking this discounted series of courses that teach Spanish for medical professionals. |
| Medical Terminology II: A Focus on Human Disease | $115 | Learn medical terminology related to all 11 of the body's organ systems, with an emphasis on human disease, diagnostic procedures, and treatment techniques. |
| Medical Terminology II: A Focus on Human Disease (Self-Paced Tutorial) | $115 | Learn medical terminology related to all 11 of the body's organ systems, with an emphasis on human disease, diagnostic procedures, and treatment techniques. |
| Medical Terminology Series | $199 | Prepare for a career in the health services industry by learning medical terminology. |
| Medical Terminology: A Word Association Approach | $115 | Prepare for a career in the health services industry by learning medical terminology in a memorable and enjoyable fashion. |
| Medical Terminology: A Word Association Approach (Self-Paced Tutorial) | $115 | Prepare for a career in the health services industry by learning medical terminology in a memorable and enjoyable fashion. |
| Merrill Ream Speed Reading | $100 | Acclaimed speed reading expert teaches you how to save yourself time by reading faster with better comprehension. |
| Microsoft Access 2016 Series | $225 | Learn how to organize, edit, manage, and report data using Microsoft Access 2016. |
| Microsoft Excel - Pivot Tables | $115 | Master all the features of Excel pivot tables, including little-known options and settings, layouts, calculated fields, multi-level subtotals, Pivot Charts, Timelines, and Slicers. |
| Microsoft Excel - Pivot Tables (Self-Paced Tutorial) | $115 | Master all the features of Excel pivot tables, including little-known options and settings, layouts, calculated fields, multi-level subtotals, Pivot Charts, Timelines, and Slicers. |
| Microsoft Excel 2016 Series | $324 | Learn to use basic, intermediate, and advanced features of Microsoft Excel 2016. |
| Microsoft Office 2016 Value Suite | $324 | Learn to use the basic features of Microsoft Word 2016, Microsoft Excel 2016, and Microsoft PowerPoint 2016, three of the most fundamental software programs used in educational and professional settings. |
| Microsoft PowerPoint 2013 in the Classroom | $115 | In this course for teachers, you'll learn how to motivate students and enrich lessons by bringing Microsoft PowerPoint 2013 presentations into your classroom. |
| Microsoft Word 2016 Series | $225 | Learn the ins and outs of Microsofts newest release of Microsoft Word. This discounted bundle teaches your everything you need to know about the 2016 release. |
| Mind-Body Therapies Bundle | $249 | Students interested in advancing within their healthcare professional career or new to pursuing energy medicine will learn how to incorporate energy healing with different healthcare methods. |
| Music Made Easy | $100 | Learn the fundamentals of music theory. Be able to read, write, and play simple music. |
| Mystery Writing | $100 | Using vivid examples from bestselling mystery novels, this course will teach you the techniques you need to become a successful author. |
| New Career Suite | $299 | Design a life that makes you happy by understanding your own interests, values, needs and abilities and using that to help find your perfect job. You will learn how to create an effective resume or transform your current one into a powerful tool that will get you interviews and the job you want quickly and easily in any economy. |
| New Manager Suite | $299 | Learn how to be an effective manager or supervisor by developing leadership skills that can help you gain the respect and admiration of others. You will also learn how to master the basics of business and organizations, the people skills required to motivate and delegate, the tools for solving problems and resolving conflicts, and the basics of communicating effectively. |
| Nonprofit Fundraising Essentials | $115 | Learn the basics of fundraising for nonprofit organizations, from annual and special fund drives to more advanced projects involving corporate and foundation relations, major gifts, and planned giving. |
| Nonprofit Management and Grant Writing Suite | $395 | Learn everything you need to know to enter the world of non-profits and writing grant proposals. |
| Nonprofit Suite | $299 | Want to enter the world of working for non-profits? Or are you wanting to start your own non-profit? Let this discounted suite of courses teach you everything you need to know. |
| Nutrition and Health Bundle | $169 | Students interested in advancing within their healthcare professional career or newly pursuing the field of nutrition and healthy lifestyle coaching |
| Oracle Series | $199 | Learn how to use the Oracle database management system and gain hands-on experience with Oracle's PL/SQL programming language. |
| Pain Management and End of Life Bundle | $159 | This course bundle is designed for health care professionals to gain a multidisciplinary educational experience and learn the knowledge and skills in pain assessment and management and the holistic integrative end of life care. |
| Performing Payroll in QuickBooks 2013 | $115 | Learn how to use QuickBooks 2013 to create paychecks, pay tax liabilities, and produce forms and reports. |
| Performing Payroll in QuickBooks 2014 | $115 | Learn how to use QuickBooks 2014 to create paychecks, pay taxes, generate forms, and produce dazzling reports. |
| Performing Payroll in QuickBooks 2015 | $115 | Learn how to use QuickBooks 2015 to create paychecks, pay taxes, produce job costing reports, and generate forms and reports quickly and easily. |
| Personal Finance | $115 | Protect your assets and discover how best to achieve all your financial goals. |
| Personal Finance (Self-Paced Tutorial) | $115 | Protect your assets and discover how best to achieve all your financial goals. |
| Photographing Nature with Your Digital Camera | $100 | Learn how to use your digital camera to take stunning nature photos, including landscapes, flowers, animals, and even macro shots. |
| Photographing People With Your Digital Camera | $100 | Learn to take beautiful pictures of adults, children, and babies. |
| Photography Suite | $299 | Learn everything from photography fundamentals to advanced portrait techniques to advance your photography hobby or turn it into a business. |
| Photoshop CC for the Digital Photographer | $100 | Learn how to use Adobe Photoshop Creative Cloud (also called Photoshop CC) to edit and enhance your photographic images. |
| Photoshop CC for the Digital Photographer II | $100 | If you already know the basics of Photoshop CC, take your photo-editing skills to the next level by mastering its advanced features. |
| Photoshop Elements for the Digital Photographer | $100 | Learn how to use the tools and features of Adobe Photoshop Elements for editing and fixing your digital photos and images. |
| Photoshop Elements for the Digital Photographer II | $100 | Master the advanced features of Adobe's Photoshop Elements, and learn to edit and enhance digital images, restore old photos, and merge images. |
| PHP and MySQL Series | $199 | Learn how to create interactive websites, including how to create an interactive online store complete with an online catalog of products. |
| Praxis Core Preparation | $115 | Develop the knowledge and skills you need to pass the Praxis Core Exam as you review and prepare for everything the test includes. |
| Praxis Core Preparation (Self-Paced Tutorial) | $115 | Develop the knowledge and skills you need to pass the Praxis Core Exam as you review and prepare for everything the test includes. |
| Prepare for GED Test Series | $199 | This test prep course bundle covers the four GED test modules, with an additional focus on the Mathematical Reasoning portion. By course completion, you will be prepared to takeand passthe GED test. |
| Prepare for the GED Math Test | $115 | Master the skills you'll need to pass the Mathematical Reasoning module in the GED test series. |
| Prepare for the GED Test | $115 | Want to pass the GED test? This course will help you develop the skills you'll need to succeed. |
| Prepare for the GED Test (Self-Paced Tutorial) | $115 | Want to pass the GED test? This course will help you develop the skills you will need to succeed. |
| Presentation Skills Suite | $299 | Learn everything you need to know to master public speaking, create PowerPoint presentations, and incorporate humor into your presentation delivery. |
| Professional Sales Skills | $115 | Discover how to begin a successful and rewarding career in sales. |
| Project Management Applications | $115 | Experienced project manager teaches you tricks of the project management trade. |
| Project Management Applications (Self-Paced Tutorial) | $115 | Experienced project manager teaches you tricks of the project management trade. |
| Project Management Fundamentals | $115 | This course provides essential information to introduce or refresh your skills and competencies as youprepare and complete your first project. This course will also help you prepare for the internationally recognized Project Management Professional (PMP) and Certified Associate in Project Management (CAPM) exams offered by the Project Management Institute, PMI. |
| Project Management Fundamentals (Self-Paced Tutorial) | $115 | Gain the skills you'll need to succeed in the fast-growing field of project management. |
| Project Management Fundamentals II | $115 | Learn 10 essential skills every project manager needs to successfully plan and manage projects. |
| Project Management Fundamentals II (Self-Paced Tutorial) | $115 | Learn 10 essential skills every project manager needs to successfully plan and manage projects. |
| Project Management Fundamentals Series | $199 | In this group of project management online classes, you'll be introduced to the fundamentals of project management, tools for success, and high speed management tactics. |
| Project Management Professional (PMP) Prep I | $105 | Begin a well-paying career as a project manager by preparing to take--and pass--the PMP certification exam. |
| Project Management Professional (PMP) Prep I (Self-Paced Tutorial) | $105 | Begin a well-paying career as a project manager by preparing to takeand passthe PMP certification exam. |
| Project Management Professional (PMP) Prep II | $105 | Prepare to take--and pass--the Project Management Institute's PMP certification exam. |
| Project Management Professional (PMP) Prep II (Self-Paced Tutorial) | $105 | Prepare to takeand passthe Project Management Institute's PMP certification exam. |
| Project Management Professional (PMP) Prep Series | $183 | Learn how to prepare for the Project Management Institute's prestigious PMP certification exam. |
| Project Management Suite | $299 | In this suite, learn the essentials of project management as you learn to plan, implement, control, and close any type of project along with essential quantitative and qualitative project management applications. |
| Publish and Sell Your E-Books | $115 | Learn how to use free tools to publish an e-book, and then list and sell your e-books in the world's largest online bookstores. |
| Purchasing Fundamentals | $115 | Improve your companys bottom line by mastering the fundamentals of purchasing. |
| QuickBooks 2013 for Contractors | $115 | Learn how to use the Premier Contractor Edition of QuickBooks 2013 for your construction business to create contract estimates, perform time tracking and job costing, bill your clients, and much more. |
| QuickBooks 2015 for Contractors | $115 | Learn how to use the Premier Contractor Edition of QuickBooks 2015 for your construction business to create contract estimates, perform time tracking and job costing, generate powerful reports, and much more. |
| QuickBooks 2016 Series | $199 | Master the fundamentals and more advanced functions of QuickBooks 2016. Learn everything from creating statements to using batch invoicing and managing journal entries. |
| QuickBooks 2017 Series | $199 | Learn to manage the financial aspects of your small business quickly and efficiently using Quickbooks 2017. |
| QuickBooks 2018 Series | $199 | Learn to manage the financial aspects of your small business quickly and efficiently using QuickBooks 2018 and how to utilize the in-depth features in the software to apply to certain business situations. |
| QuickBooks for Contractors 2014 | $115 | Learn how to use the Premier Contractor Edition of QuickBooks 2014 for your construction business to create contract estimates, perform time tracking and job costing, generate powerful reports, and much more. |
| Reading Strategies Suite | $395 | Learn creative ways to improve student literacy, turn guided reading strategies into opportunities, and bring differentiated instruction to life in your classroom. |
| Ready, Set, Read! | $100 | A learning specialist shows you how to raise a successful reader and writer. |
| Ready, Set, Read! (Self-Paced Tutorial) | $100 | Learn how to support reading and writing skills in young learners. |
| Real Estate Investing | $100 | Build and protect your wealth by investing in real estate. |
| Real Estate Investing (Self-Paced Tutorial) | $100 | Build and protect your wealth by investing in real estate. |
| Real Estate Law | $115 | Learn the basics of real estate law, including investing, title searching, and mortgages. |
| Real Estate Suite | $299 | These courses will help you understand what it takes to build wealth, how to invest in real estate, and legalities surrounding real estate. |
| Research Methods for Writers | $115 | Learn the most efficient and effective methods to conduct research for any writing project. |
| Response to Intervention: Reading Strategies That Work | $100 | Learn response to intervention (RTI) strategies that ensure the struggling readers in your classroom get the help and education they need. |
| Response to Intervention: Reading Strategies That Work (Self-Paced Tutorial) | $100 | Learn response to intervention (RTI) strategies that ensure the struggling readers in your classroom get the help and education they need. |
| Responsive Web Design | $115 | Learn to build fully responsive websites optimized for mobile devices, smartphones, tablets, and desktop viewing environments. |
| Resume Writing Workshop | $115 | Discover the secret to transforming your tired, boring resume into a powerful tool that will get you interviews. |
| Romance Writing | $100 | Whether you're a new or experienced writer, this course will teach you the skills you need to write a romance novel that will make readers swoon. |
| Sales Training Suite | $299 | Learn the skills you need to obtain a lucrative career in sales. This group of online sales classes will teach you everything from communication to closing the deal. |
| SAT/ACT Prep Course - Part 1 | $100 | Master the reading, writing, English, and science questions on the ACT and new SAT. |
| SAT/ACT Prep Course - Part 1 (Self-Paced Tutorial) | $100 | Master the reading, writing, English, and science questions on the ACT and new SAT. |
| SAT/ACT Prep Course - Part 2 | $100 | Master the math questions on the ACT and new SAT. |
| SAT/ACT Prep Series | $199 | This series will prepare you to excel in all sections of the undergraduate college entrance exams. |
| Secrets of Better Photography | $100 | Learn how to take better pictures by understanding your camera and how to use it in a variety of situations. |
| Secrets of Better Photography (Self-Paced Tutorial) | $100 | Learn how to take better pictures by understanding your camera and how to use it in a variety of situations. |
| Secrets of the Caterer | $100 | Learn cooking and business secrets from a professional caterer. |
| Self-Improvement Suite | $299 | In this program youll learn career-enhancing skills including goal setting, time management, personal organization, and creativity. |
| Singapore Math Strategies: Advanced Model Drawing for Grades 6-9 | $115 | Master model drawing, a revolutionary technique for teaching middle school math students how to triumph over word problems and learn to love math. |
| Singapore Math Strategies: Model Drawing for Grades 1-6 | $115 | In this professional development course for teachers, you'll get the training you need to start teaching model drawing, the powerful Singapore Math strategy that gives word problems a visual context. |
| Singapore Math Strategies: Model Drawing for Grades 1-6 (Self-Paced Tutorial) | $115 | In this professional development course for teachers, you will train to teach model drawing, the powerful Singapore Math strategy that gives word problems a visual context. |
| Singapore Math: Number Sense and Computational Strategies | $115 | In this teacher training course, you'll learn Singapore's innovative and practical strategies for solving addition, subtraction, multiplication, and division problems. |
| Singapore Math: Number Sense and Computational Strategies (Self-Paced Tutorial) | $115 | In this teacher training course, you will learn Singapore's innovative and practical strategies for solving addition, subtraction, multiplication, and division problems. |
| Six Sigma: Total Quality Applications | $115 | Learn to apply the elements and methods of Six Sigma to achieve the highest possible quality. |
| Skills for Making Great Decisions | $115 | Learn how to make excellent everyday decisions from an experienced counselor and life coach. |
| Small Business Marketing on a Shoestring | $115 | Discover small business marketing strategies that can help you attract attention, woo your target audience, grow your customer base, and expand your profitsall for little or no money. |
| Small Business Suite | $299 | Master the skills and develop the knowledge you need to fulfill your dreams of creating, building and marketing your own business. |
| Soft Skills Suite | $395 | Want to brush up on your soft skills? This suite of courses teaches everything from working with tough personalities to making better business decisions. |
| Solving Classroom Discipline Problem (Self-Paced Tutorial) | $115 | Learn the step-by-step approach to an orderly classroom in this course designed by a veteran teacher. |
| Solving Classroom Discipline Problems | $115 | Veteran teacher reveals the secrets to an orderly classroom. A step-by-step approach to effective, positive discipline. |
| Solving Classroom Discipline Problems II | $115 | In this professional development course, you'll get the teacher training you need to deal effectively with serious discipline problems and help even the most challenging students you're teaching make more responsible choices. |
| Spanish for Law Enforcement | $115 | Master the fundamentals of the Spanish language by practicing basic conversational skills and learning essential Spanish terminology for law enforcement situations. |
| Spanish for Medical Professionals | $115 | Learn medical Spanish quickly and easily, honing your basic conversational skills and mastering key healthcare words and phrases. |
| Spanish For Medical Professionals (Self-Paced Tutorial) | $115 | Learn medical Spanish quickly and easily, honing your basic conversational skills and mastering key healthcare words and phrases. |
| Spanish for Medical Professionals II | $115 | Build on your foundation of Spanish for healthcare providers by learning medical terminology and phrases from a variety of medical fields as well as Spanish grammar. |
| Spanish in the Classroom | $115 | Learn the essential Spanish for teachers so you can communicate effectively with your Spanish-speaking students and parents. |
| Spanish in the Classroom (Self-Paced Tutorial) | $115 | Learn the essential Spanish for teachers so you can communicate effectively with your Spanish-speaking students and parents. |
| Speed Spanish | $115 | Learn six easy recipes to glue Spanish words together into sentences, and you'll be engaging in conversational Spanish in no time. |
| Speed Spanish (Self-Paced Tutorial) | $115 | Learn six easy recipes to glue Spanish words together into sentences, and you will be engaging in conversational Spanish in no time. |
| Speed Spanish II | $115 | Follow-up to our popular Speed Spanish course. Several new recipes help you continuebuilding fluency. |
| Speed Spanish II (Self-Paced Tutorial) | $115 | Follow-up to our popular Speed Spanish course with several new ways to help you build fluency. |
| Speed Spanish III | $115 | Master your ability to speak, understand, and read Spanish by taking the final installment in our unique three-part Speed Spanish learning series. |
| Speed Spanish Series | $299 | Learn shortcuts to help you engage in conversational Spanish, as you build your language skills and develop fluency. |
| SQL Series | $199 | SQL is one of the most requested skills from todays data-driven employers. Learn the coding language in these easy to follow online courses. |
| Start a Pet Sitting Business | $115 | Discover how to translate your love of animals into a fun and profitable career. |
| Start and Operate Your Own Home-Based Business | $115 | An experienced entrepreneur teaches you how to develop the motivation, discipline, and creativity to quit your job and be your own boss. |
| Start Your Own Arts and Crafts Business | $115 | Learn how to start your own arts and crafts business from a professional artist. |
| Start Your Own Edible Garden | $115 | Learn how to grow delicious, nutritious fruit and vegetables in your own backyard. |
| Start Your Own Gift Basket Business | $115 | Express your creativity in a fun and profitable way, by starting a home-based business as a gift basket designer. |
| Start Your Own Online Business | $115 | Learn how to leverage the Internet to start your own online business and build a website to sell your traditional and digital products and services. |
| Start Your Own Small Business | $115 | Stop dreaming and learn how to start your own successful small business. |
| Start Your Own Small Business (Self-Paced Tutorial) | $115 | Stop dreaming and learn how to start your own successful small business. |
| Starting a Consulting Practice | $115 | Find out how you can earn income by sharing your training or knowledge with others. |
| Starting a Nonprofit | $115 | Industry veteran shows you how to take a nonprofit business from vision to reality. |
| Stock Trading Suite | $299 | Learn how to make wise investment decisions and discover valuable techniques that show you step-by-step how to research and value stocks. |
| Stocks, Bonds, and Investing: Oh, My! | $100 | Learn how to make wise investment decisions so that you have enough money to live comfortably through your retirement. |
| Stocks, Bonds, and Investing: Oh, My! (Self-Paced Tutorial) | $100 | Learn how to make wise investment decisions so that you have enough money to live comfortably through your retirement. |
| Supervision and Management Series | $199 | Whether youre new to managing employees or are a seasoned pro, these courses will help you brush up on your leadership and interpersonal communication skills, to help you lead your team to success. |
| Supply Chain Management Fundamentals | $115 | Master the fundamentals of supply chain management and prepare for internationally recognized certification examinations. |
| Supply Chain Suite | $299 | Discover and master the fundamentals of purchasing and supply chain management with this group of online classes. |
| Survival Kit for New Teachers | $115 | Veteran instructor shares the secrets for success in your first years of teaching. |
| Talent and Performance Management | $115 | This program will prepare you for a career as a Talent Management professional. You will learn key issues facing organizations and their ability to attract and retain top talent in order to compete in a global marketplace. |
| Teaching Adult Learners | $115 | Learn powerful techniques for reaching and motivating adult learners in todays student-centered classroom. |
| Teaching Adult Learners (Self-Paced Tutorial) | $115 | Learn powerful techniques for reaching and motivating adult learners in todays student-centered classroom. |
| Teaching High School Students | $115 | Master the latest teaching strategies to help you reach high school students, including differentiated instruction and classroom management. |
| Teaching Math: Grades 4-6 | $115 | Reinvent math instruction for grades 4-6 by bringing hands-on learning, inexpensive manipulatives, and real-world connections into your classroom. |
| Teaching Preschool: A Year of Inspiring Lessons | $115 | In this course on teaching preschoolers, you'll learn how to come up with creative and balanced preschool lesson plans for every month of the school year. |
| Teaching Preschool: A Year of Inspiring Lessons (Self-Paced Tutorial) | $115 | In this course on teaching preschoolers, you will learn how to come up with creative and balanced preschool lesson plans for every month of the school year. |
| Teaching Science: Grades 4-6 | $100 | Increase your effectiveness as a science teacher for children in fourth through sixth grades. |
| Teaching Smarter With SMART Boards | $115 | Master the use of SMART Board and SMART Notebook technology so you can create powerful interactive lessons that capture your students attention. |
| Teaching Smarter With SMART Boards (Self-Paced Tutorial) | $115 | Master the use of SMART Board and SMART Notebook technology so you can create powerful interactive lessons that capture your students attention. |
| Teaching Students With ADHD | $115 | Learn practical strategies for helping children with attention deficit hyperactivity disorder (ADHD) succeed in school. |
| Teaching Students With ADHD (Self-Paced Tutorial) | $115 | Learn practical strategies for helping children with attention deficit hyperactivity disorder (ADHD) succeed in school. |
| Teaching Students With Autism: Strategies for Success | $115 | Help your students with high-functioning autism and Asperger's Syndrome unlock their potential in the classroom. |
| Teaching Students With Autism: Strategies for Success (Self-Paced Tutorial) | $115 | Help your students with high-functioning autism and Asperger's Syndrome unlock their potential in the classroom. |
| Teaching Students With Learning Disabilities | $115 | Learn how to successfully meet the diverse needs of students withlearning disabilities in your classroom. |
| Teaching Students With Learning Disabilities (Self-Paced Tutorial) | $115 | Learn how to successfully meet the diverse needs of students withlearning disabilities in your classroom. |
| Teaching Writing: Grades 4-6 | $115 | In this teacher-training course, you'll learn from an experienced educator how to motivate and assist developing writers. |
| Teaching Writing: Grades K-3 | $115 | Learn how to nurture student writers in the early elementary classroom. |
| Teaching Writing: Grades K-3 (Self-Paced Tutorial) | $115 | Learn how to nurture student writers in the early elementary classroom. |
| The Analysis and Valuation of Stocks | $100 | Discover valuable techniques that show you step-by-step how to research and value stocks. |
| The Craft of Magazine Writing | $115 | If you're a determined new writer, this class will provide you with the skills you need to get published. |
| The Creative Classroom | $115 | Enrich your teaching talents and encourage your students' creative thinking as you learn to turn your classroom into a creative classroom. |
| The Differentiated Instruction and Response to Intervention Connection | $115 | Learn how to combine two powerful educational approachesDifferentiated Instruction and Response to Interventionso you can enable every student in your classroom to succeed. |
| The Keys to Effective Editing | $115 | If you aspire to be an editor, this course will teach you the fundamentals of top-notch editing for both fiction and nonfiction. |
| The Keys to Effective Editing (Self-Paced Tutorial) | $115 | If you aspire to be an editor, this course will teach you the fundamentals of top-notch editing for both fiction and nonfiction. |
| Total Quality Fundamentals | $115 | Learn the basics of total quality management. |
| Travel Photography for the Digital Photographer | $100 | Learn the tricks and techniques digital photographers need to capture scenes from around the world and bring them home. |
| Travel Writing | $100 | Profit from your experiences in exotic lands (or your own backyard) by learning how to write and sell travel articles and books. |
| Twelve Steps to a Successful Job Search | $115 | World-renowned author and career advisor shows you how to get the job you want quickly and easily and in any economy. |
| Twelve Steps to a Successful Job Search (Self-Paced Tutorial) | $115 | Learn how to get the job you want in any economy with these twelve steps. . |
| Understanding Adolescents | $100 | Uncover the secrets of the adolescent mind. Gain valuable information on how they feel, how their identities develop, and how you can best meet their needs. |
| Understanding Adolescents (Self-Paced Tutorial) | $100 | Uncover the secrets of the adolescent mind. This course helps you gain valuable information on how adolescent feel, how their identities develop, and how you can best meet their needs. |
| Understanding the Cloud | $115 | Learn everything you need to truly understand the cloudincluding how it works, what drives it, why it's so popular, and how to make the cloud work for you. |
| Understanding the Human Resources Function | $115 | Learn to handle basic human resource functions to ensure the best possible results. |
| Understanding the Human Resources Function (Self-Paced Tutorial) | $115 | Learn to handle basic human resource functions to ensure the best possible results. |
| Using Social Media in Business | $115 | Learn how to use the five most popular social media platformsFacebook, Twitter, LinkedIn, Pinterest, and Google+to grow and promote your business. |
| Using Social Media in Business (Self-Paced Tutorial) | $115 | Learn how to use the five most popular social media platformsFacebook, Twitter, LinkedIn, Pinterest, and Google+to grow and promote your business. |
| Using the Internet in the Classroom | $115 | Discover how you can use the Internet to make teaching easier for you and more relevant to your students. |
| Veterinary Assistant Series | $299 | Practicing veterinarian prepares you to work in a veterinary office or hospital. |
| Visual Basic Series | $199 | Learn how to write Windows applications and programs using the Visual Basic programming language. |
| Web Design Value Suite | $299 | Create your own webpages and websites after learning everything from web design layout to CSS3/HTML5 and Javascript. |
| What's New in Microsoft Office 2013 | $115 | Get up to speed on the exciting new features of Microsoft Office 2013, including Word, Excel, PowerPoint, Access, Outlook, OneNote, and Publisher. |
| Where Does All My Money Go? | $100 | Learn how to get control of your money once and for all. |
| Wireless Networking | $115 | Industry expert shows you how wireless networking works, as well as how to plan, deploy, and connect to wireless networks. |
| Women's Health Bundle | $240 | This course combines Perinatal Issues,Violence Prevention and Awareness, and Womens Health Issues as you learn aboutthe well-being of women, womens rights, and empowerment. |
| Workers' Compensation | $115 | Gain essential skills and a solid understanding of one of the fastest-growing areas in law. |
| Workplace Law Essentials Value Suite | $199 | Whether youre an aspiring paralegal or human resources professional, these courses will teach you the fundamentals of workplace legalities. |
| Wow, What a Great Event! | $100 | Looking for a fun new career coordinating special events? Learn proven techniques from a master event planner. |
| Write and Publish Your Nonfiction Book | $100 | Become a professional author or advance your career by learning to write, edit, and publish nonfiction books of all types. |
| Write Effective Web Content | $115 | Learn how to write Web content and produce multimedia elements to make your website or blog a must-visit site on the Internet. |
| Write Fiction Like a Pro | $100 | A published author teaches you how professional writers use story outlines to structure any type of story. |
| Write Fiction Like a Pro (Self-Paced Tutorial) | $100 | Learn how to use story outlines like a professional writer with lessons developed by a published author. |
| Write Your Life Story | $100 | Learn how to create and distribute an inspirational and professional autobiography for family, friends, and others. |
| Writeriffic: Creativity Training for Writers | $100 | Banish writer's block forever with these tricks from the published writer's toolbox. |
| Writing and Editing Value Suite | $299 | Brush up on your grammar, writing, and editing skills with this discounted bundle of online courses! |
| Writing Effective Grant Proposals | $115 | Learn to prepare grant proposals that get solid results for your favorite organization or charity. |
| Writing Effective Grant Proposals (Self-Paced Tutorial) | $115 | Learn to prepare grant proposals that get solid results for your favorite organization or charity. |
| Writing Essentials | $115 | Master the essentials of writing so you can excel at business communications, express yourself clearly online, and take your creative literary talents to a new level. |
| Writing for Children | $100 | Published children's author shows you how to touch the hearts of children by creating books for them. |
| Writing for ESL | $100 | Learn how to write in English more effectively to succeed in college and at work. |
| Writing the Fantasy Novel | $100 | This is the perfect course for anyone who's ever thought about becoming a fantasy fiction writer. |
| Writing Young Adult Fiction | $100 | Develop your own young adult novel and learn how to break into one of today's hottest publishing markets. |
| CLASS | PRICE | DESCRIPTION |
| Activity Director | $695 | This course is designed to give you the training and insight in working with the activity programs in nursing homes. |
| Administrative Dental Assistant | $1,795 | Learn how to perform the administrative tasks essential for managing the business aspects of a dental practice. |
| Administrative Professional with Microsoft Office 2013 Master | $1,995 | The Administrative Professional with Microsoft Office 2013 Master program teaches the skills students need to become a successful administrative professional and prepares students to use Microsoft Office 2013 programs: Excel, Word, PowerPoint, and Outlook. |
| Administrative Professional with Microsoft Office Specialist 2013 | $2,395 | The Administrative Professional with Microsoft Office Specialist 2013 training program teaches the skills required to become a successful administrative professional and prepares students for the Microsoft Office Specialist Certification Exams 77-418, 77-425, and 77-426 (Word), 77-420, 77-427, and 77-428 (Excel), 77-422 (PowerPoint), 77-423 (Outlook), and 77-424 (Access). |
| Adobe Certified Associate (3 Vouchers Included) | $2,495 | The Adobe Certified Associate program is designed for students who want to learn Adobe software programs and prepare for the Adobe Certified Associate (ACA) exams. |
| Adobe Certified Associate (5 Vouchers Included) | $2,595 | The Adobe Certified Associate program is designed for students who want to learn Adobe software programs and prepare for the Adobe Certified Associate (ACA) exams. |
| Advanced Coding for the Physician's Office | $1,595 | Take the next step in your career and prepare for the Certified Procedural Coding national certification exam with the help of this online training program. |
| Advanced Hospital Coding and CCS Prep (Voucher Included) | $1,895 | This program will improve your diagnostic and procedural coding skills and increase your knowledge of clinical documentation, reimbursement in inpatient and outpatient settings, and data quality management. After completion, you will be prepared to sit for the official certification exam to become a Certified Coding Specialist (CCS). |
| Ama de Casa Biling?e | $595 | Habilidades bsicas de limpieza te entrenar para una ocupacin trabajando como ama de llaves a tiempo completo. |
| Android App Developer | $495 | Learn and master the necessary skillsets for professional Android application development by developing six trending applications during this course authorized by Google. |
| AutoCAD 2018 Certified User (Voucher Included) | $2,595 | This course teaches you the basic and advanced 2D functionality for AutoCAD 2018. You will also learn the necessary tools to prepare for the Autodesk AutoCAD 2018 Certified User Exam. |
| AutoCAD 2018 with AutoCAD 3D 2018 (Voucher Included) | $3,295 | This course teaches you basic and advanced 2D functionality for AutoCAD 2018, and AutoCADs 3D tools to be able to design three-dimensional models using AutoCAD 2018. You will also learn all the necessary tools to prepare for the Autodesk AutoCAD 2018 Certified User Exam. |
| AutoCAD 3D 2018 | $1,695 | If you are proficient with the 2D commands in the AutoCAD 2018 software, this online course introduces you to the concepts and methods of 3D modeling. The course provides a thorough grounding in the fundamentals of 3D, and explores the main features of the advanced 3D modeling workspace in the AutoCAD 2018 software. This course uses Autodesk certified curriculum. |
| Autodesk Inventor (Voucher Included) | $2,595 | In this course, you will learn the fundamental skills required to create parametric solid models using Autodesk Inventor 2018. You will also have all the necessary tools to prepare for the Autodesk Inventor Certified User exam. |
| Autodesk Revit Architecture (Voucher Included) | $2,595 | Learn the basic functionality of Autodesk Revit for Architecture as well as all the necessary tools to prepare for the Autodesk Revit Architecture Certified User Exam. |
| AWS System Operations Certification Bundle (Voucher Included) | $3,995 | You will be introduced to Amazon Web Services (AWS) and how to create automatable and repeatable deployments of networks and systems on the AWS platform. You will also be prepared to sit for the AWS Certified SysOps Administrator Associate exam. |
| Basic Housekeeping | $595 | Basic Housekeeping will train you for a job working as a full charge housekeeper. |
| Biofuel Production Operations | $2,595 | The Biofuel Production Operations Online Training Program will give you the education you need to work as a biofuel production operator, inspecting and repairing equipment, operating computer systems, and handling lab equipment. |
| Catering Professional | $1,295 | This course focuses on the skills and knowledge needed to become a catering professional. Catering management studies the practical elements of marketing, managing and operating quality, and safe and successful events. |
| CBCS Certified Medical Administrative Assistant with Medical Billing and Coding (Vouchers Included) | $2,695 | The Certified Billing and Coding Specialist (CBCS) Certified Medical Administrative Assistant with Medical Billing and Coding is geared towards students who are interested in obtaining a career in the healthcare industry, but have little to no experience within the sector. |
| CBCS Medical Billing and Coding (Voucher Included) | $2,195 | This nationally recognized program combines the Medical Billing and Coding program with 60 hours of medical terminology training to give you a competitive edge in the healthcare field. |
| CCA Certified Medical Administrative Assistant with Medical Billing and Coding (Vouchers Included) | $3,195 | The CCA Certified Medical Administrative Assistant with Medical Billing and Coding is geared towards students who are interested in obtaining a career in the healthcare industry, but have little to no experience within the sector. |
| CCA Medical Billing and Coding (Voucher Included) | $2,695 | This Medical Billing and Coding program with 60 hours of medical terminology training, gives you a competitive edge in entering the healthcare field. |
| CCBA Certification Training | $495 | You'll hone your skills in system development and evolve as a business analyst in this CCBA course, built on IIBA guidelines. |
| CCNA: Collaboration (Voucher Included) | $1,695 | Learn how to become an expert in all areas of Cisco telephony from call routing basics to advanced Cisco telephony architecture. |
| CCNA: Routing and Switching | $1,995 | The Cisco CCNA Online Training Program will give you the essential knowledge to install, configure, operate, and troubleshoot medium-size routed and switched networks while preparing you for the 200-125 CCNA exam or the 100-105 ICND1 and 200-105 ICND2 exams. |
| CCNA: Routing and Switching (Voucher Included) | $2,195 | The Cisco CCNA Online Training Program will give you the essential knowledge to install, configure, operate, and troubleshoot medium-size routed and switched networks while preparing you for the 200-125 CCNA exam or the 100-105 ICND1 and 200-105 ICND2 exams. |
| CCNA: Security (Voucher Included) | $1,695 | With a CCNA Security certification, a network professional demonstrates the skills required to develop a security infrastructure, recognize threats and vulnerabilities to networks, and mitigate security threats. |
| CCNA: Wireless (Voucher Included) | $1,695 | Learn to support a basic wireless network on a Cisco WLAN in a SMB to enterprise network in CCNA Wireless. |
| Certificate in Family Mediation | $3,895 | This program teaches comprehensive training in the InAccord model of mediation with a special focus on a wide range of family disputes. |
| Certificate in Healthcare and Eldercare | $3,895 | You will learn comprehensive training in the InAccord model of mediation with a special focus on Healthcare and Eldercare disputes. |
| Certificate in Mediation and Arbitration | $3,695 | The Certificate in Mediator and Arbitrator Program provides students with the skills and knowledge needed to practice mediation and arbitration in their current careers or private practices. |
| Certificate in Mediation and Restorative Justice | $3,895 | Learn the InAccord model of mediation and restorative justice in this comprehensive training. |
| Certificate in Workplace Mediation | $3,695 | This course, Certificate in Workplace Mediation provides you with the skills and knowledge needed to practice mediation. |
| Certified Administrative Professional (Voucher Included) | $1,695 | This program provides the information you need to know to sit for the Certified Administrative Professional (CAP) exam offered by the International Association of Administrative Professionals (IAAP). |
| Certified Administrative Professional with Microsoft Office Master 2016 (Vouchers Included) | $3,295 | This program provides the information you need to know to sit for the Certified Administrative Professional (CAP) exam offered by the International Association of Administrative Professionals (IAAP) and the Microsoft Office Master 2016 Certification exams. |
| Certified Administrative Professional with Microsoft Office Specialist 2016 (Vouchers Included) | $3,695 | This program provides the information you need to know to sit for the Certified Administrative Professional (CAP) exam offered by the International Association of Administrative Professionals (IAAP). |
| Certified Bookkeeper | $1,995 | The Certified Bookkeeper Online Training Program helps professional bookkeepers earn prestigious American Institute of Professional Bookkeepers (AIPB) certification. |
| Certified Clinical Medical Assistant (CCMA) (Voucher Included) | $2,495 | You will learn the necessary skills to function as a vital member of the healthcare team in a hospital setting, clinic or physicians office as you prepare for a career as Certified Clinical Medical Assistant (CCMA), and the national certification exam. |
| Certified Clinical Medical Assistant (CCMA) + Certified Electronic Health Records Specialist (CEHRS) (Vouchers Included) | $3,995 | This bundle course will train you for a career as a clinical medical assistant and teach you how to use electronic health records systems. Upon course completion, you will be eligible to sit for the CCMA and CEHR certification exams. |
| Certified Clinical Medical Assistant for the Experienced CMAA (Voucher Included) | $1,995 | Clinical medical assistants are trained to handle the increasing complexities of patient care and management in healthcare facilities. This course will train you for a career as a clinical medical assistant and you will be eligible to sit for the CCMA certification exam upon course completion. |
| Certified Credit Counselor (Exam Included) | $1,995 | Becoming a Certified Credit Counselors shows clients you hold the financial knowledge and counseling techniques needed to teach them how to improve their financial well-being. |
| Certified Electronic Health Records Specialist (CEHRS) | $1,795 | Learn how to implement and utilize electronic health records and become a Certified Electronic Health Records Specialist. |
| Certified Electronic Health Records Specialist + Medical Terminology | $2,295 | Learn how to implement and utilize electronic health records and become a Certified Electronic Health Records Specialist with 60 hours of medical terminology training to give you a competitive edge in the healthcare field. |
| Certified Ethical Hacker (Voucher Included) | $2,895 | The Certified Ethical Hacker (CEH) program is the core of the most desired information security training system any information security professional will ever want to be in. |
| Certified Global Business Professional | $2,495 | The Certified Global Business Professional Online Training Program prepares you for the credential exam by educating you in four areas: global management, global marketing, supply chain management, and trade finance. |
| Certified Green Supply Chain Professional | $1,595 | Help your company achieve its environmental goals with the Certified Green Supply Chain Professional Online Training Program. Gain the skills you'll need to make a green impact on global sourcing, material management, procurement and buying, transportation and logistics, and new product development. |
| Certified Health Unit Coordinator (Voucher Included) | $1,495 | This program teaches the skills needed to prepare you to sit for the NAHUC certification exam. |
| Certified Indoor Air Quality Manager | $795 | Are you a facility manager, building engineer, or health and safety officer who wants to improve the indoor air quality of your building? If so, the Certified Indoor Air Quality Manager Program is just for you. |
| Certified Indoor Environmentalist Prep | $895 | Would you like to become an indoor air quality or green building consultant? Would you like to better understand how to create a healthy home or building by preventing, diagnosing, and resolving indoor environmental problems? The Certified Indoor Environmentalist Program will help you take the next step in your career. |
| Certified Information Security Manager (CISM) | $795 | CISM is one of the most valued certifications in the IT security industry. This online program will prepare you to sit for the CISM certification exam. |
| Certified Information Security Manager (CISM) (Voucher Included) | $1,395 | CISM is one of the most valued certifications in the IT security industry. This online program will prepare you to sit for the CISM certification exam, and the exam cost is included. |
| Certified Information Systems Auditor (CISA) | $795 | The CISA certification is an internationally recognized IT certification for senior IT professionals needing to know security and auditing principles. |
| Certified Information Systems Auditor (CISA) (Voucher Included) | $1,395 | The CISA certification is an internationally recognized IT certification for senior IT professionals needing to know security and auditing principles. This online CISA training includes the cost of the CISA certification exam. |
| Certified Information Systems Security Professional (CISSP) | $1,995 | This engaging, hands-on program covers the key areas of information security and helps prepare individuals for the CISSP exam. |
| Certified Internal Auditor | $695 | The Certified Internal Auditor (CIA) teaches the IIAs International Standards for the Professional Practice of Internal Auditing (Standards) and aspects of mandatory guidance under the IPPF. |
| Certified Medical Administrative Assistant (CMAA) (Voucher Included) | $1,495 | This course teaches you how Administrative Medical Assistants are versatile and valuable members of the healthcare team who handle a broad range of duties. You will also be prepared for the Certified Medical Administrative Assistant (CMAA) national certification exam offered by National Healthcareer Association (NHA). |
| Certified Medical Administrative Assistant with Certified Electronic Health Records Specialist + Medical Terminology (Vouchers Included) | $2,495 | This program combines the Certified Medical Administrative Assistant program with training in electronic health records and medical terminology to give you a competitive edge in the healthcare field. |
| Certified Medical Transcriptionist (Voucher Included) | $2,695 | Students in this program will learn how to properly transcribe and edit the medical notes of healthcare providers to document patient care. |
| Crystal Reports | $995 | If you need to learn how to analyze data and create reports, this course is for you. You will learn how to use Crystal Reports, one of the most widely-used business intelligence tools, to design and generate complex reports. |
| Certified Outpatient Coder | $1,995 | This program teaches the competencies needed to prepare you to sit for the AAPC Certified Outpatient Coder (COC) certification exam. |
| Certified Outpatient Coder (Voucher Included) | $2,895 | This program teaches the competencies needed to prepare you to sit for the AAPC Certified Outpatient Coder (COC) certification exam. |
| Certified Pharmaceutical Sales Representative (Exam Included) | $2,195 | The pharmaceutical industry is growing faster than ever. When you hold a Pharmaceutical Representative Certification (PRC), you become a more competitive candidate in todays job market. |
| Certified Professional Life Coach (Exam Included) | $1,795 | Professional life coaching has grown into a $2 billion industry, with demand for certified life coaches on the rise. More and more, organizations are hiring coaches to help their employees develop leadership capabilities and increase performance and productivity. This life coach certification course teaches the critical skills need to establish a successful business. |
| Certified Professional Medical Auditor (Voucher Included) | $1,695 | CPMA teaches principles of medical auditing and prepares you for the CPMA certification exam. |
| Certified Protection Officer | $850 | Master the skills you need to obtain certification as a Protection Officer, and prepare yourself for employment in this high-demand field. |
| Certified Quality Auditor (Voucher Included) | $1,695 | This course provides you with an American Society for Quality certification, the internationally recognized credential for validating expertise in planning, conducting, and reporting quality audits. |
| Certified Quality Engineer (Voucher Included) | $1,695 | This course prepares you for the American Society for Quality certification, the internationally recognized credential for validating expertise in planning, conducting, and reporting quality audits as it reviews the subject areas of the Certified Quality Engineer (CQE) Book of Knowledge. |
| Certified Quality Improvement Associate (CQIA) | $995 | Prepare for the CQIA exam from the convenience of your home or office. Identify knowledge gaps and target your studies from test results. Review and reinforce your learning as part of your exam preparation. |
| Certified Residential Interior Designer | $1,995 | Prepare for a career as a residential interior designer by learning the basics of good design, getting familiar with design styles and movements, exploring the materials that interior designers use, and putting your knowledge to work as you create your own design concept for a family room. |
| Certified Risk Adjustment Coder (Voucher Included) | $1,495 | You will learn principles of risk adjustment and accurate diagnosis coding. |
| Certified Six Sigma Black Belt | $1,995 | This course prepares you for the ASQ Certified Six Sigma Black Belt Examination and equips you to apply Six Sigma concepts and methods as a practitioner or consultant. |
| Certified Six Sigma Green Belt (Exam Cost Included) | $1,895 | Prepare for Six Sigma Green Belt certification by mastering the contents of the American Society for Quality (ASQ) Six Sigma Green Belt body of knowledge. Exam cost included. |
| Certified Six Sigma Green Belt and Black Belt | $3,495 | This course prepares you for the ASQ Certified Six Sigma Green Belt and Black Belt Examinations and also equips you to apply Six Sigma concepts and methods as a project leader, practitioner, consultant, or team member. |
| Certified Wedding Planner | $1,595 | This comprehensive program covers everything an aspiring wedding planner needs to know to get started in the business. Whether you plan on working part-time or full-time, this program will provide all the knowledge you need to work as a professional wedding planner or start your wedding planning business. |
| Chartered Tax Professional | $1,895 | Learn to prepare individual tax returns for almost all U.S. taxpayers! With this innovative program, you can start working and earning money while completing your program. |
| Chartered Tax Professional for California Residents | $1,995 | With this innovative online California Chartered Tax Professional Certificate Program, you can become qualified as a California Tax Preparer through the California Tax Education Council (CTEC), and start working and earning money while completing your program. |
| Chemical Plant Operations | $2,595 | Prepare for an entry-level position in a chemical plant with the Chemical Plant Operations Online Training Program. |
| Child Development Associate Training | $850 | With the certificate program in Childcare Education offered at Smart Horizons Career Online High School, you can pursue your Child Development Associate (CDA) certification and launch your career in childcare. |
| Child Development Associate Training Renewal | $499 | This course provides the 45 hours or 4.5 Continuing Education Units (CEUs) required by the CDA Council to fufill and renew your Child Development Associate (CDA) credential. |
| Cisco Certified Network Professional (CCNP) | $2,295 | The CCNP Certification is highly regarded in the IT industry as one of the most valuable credentials in the market for IT networking security. |
| Cisco Certified Network Professional (CCNP) (Voucher Included) | $2,895 | The CCNP Certification is highly regarded in the IT industry as one of the most valuable credentials in the market for IT networking security. |
| Clinical Dental Assistant | $1,995 | The Clinical Dental Assistant Online Training Program will provide you with the skills you need to become a dental assistant. After you've completed this program, youll be ready to pursue certification as a dental assistant by passing the radiology and infection control portions of the Dental Assisting National Board examination. |
| CNC Machinist | $1,995 | The CNC Machinist course provides an intensive overview of skills necessary to perform CNC machining. You will learn workholding, math, inspection, safety, metal cutting, materials, quality, and grinding. |
| COBIT 5 Certification Training | $695 | The COBIT 5 Certification Training program helps you understand COBIT 5 framework for management and governance of Enterprise IT. It covers COBIT 5 principles, enablers, COBIT implementation phases, and process capability assessment model. |
| Composites Technician | $1,995 | The Composites Technician course provides an intensive overview of skills necessary for composites processing. You will learn math, inspection, safety, materials, quality, machining, and joining to work as a Composites Technician. |
| CompTIA Certification Training: A+, Network+, Security+ (Vouchers Included) | $3,995 | CompTIA Certification Training: A+, Network+, Security+ provides a comprehensive foundation for IT professionals, incorporating CompTIA A+, CompTIA Network+, and CompTIA Security+ specific training, and prepares you for the corresponding industry exams that are desirable for IT professionals. |
| CompTIA A+ Certification Training | $1,695 | CompTIA A+ certification is the industry standard for validating the skills of entry-level computer technicians. It opens the door to an exciting career in computer technology, and ed2gos online program makes training convenient and interactive. |
| CompTIA A+ Certification Training (Vouchers Included) | $1,995 | CompTIA A+ certification is the industry standard for validating the skills of entry-level computer technicians. It opens the door to an exciting career in computer technology, and ed2gos online program makes training convenient and interactive. |
| CompTIA A+ with ITIL Foundation (Vouchers Included) | $2,495 | This online training program is perfect for students wanting to enter a career in Information Technology. You will learn CompTIA A+ and ITIL principles and prepare for certification. |
| CompTIA Advanced Security Practitioner (CASP) (Voucher Included) | $995 | The CASP certification is one of the most valuable vendor-neutral certifications in the security field, allowing students to become proficient in a variety of technology areas, all while allowing them to stay independent of any one particular infrastructure. |
| CompTIA Certification Training: A+, Network+, Security+ | $3,495 | CompTIA Certification Training: A+, Network+, Security+ provides a comprehensive foundation for IT professionals, incorporating CompTIA A+, CompTIA Network+, and CompTIA Security+ specific training, and prepares you for the corresponding industry exams that are desirable for IT professionals. |
| CompTIA Cloud+ Certification Training | $1,495 | Cloud computing is how technology is done today, and ed2gos CompTIA Cloud+ certification training course teaches key skills while preparing students for the Cloud+ industry credential. |
| CompTIA Cloud+ Certification Training (Voucher Included) | $1,695 | Cloud computing is how technology is done today, and ed2gos CompTIA Cloud+ certification training course teaches key skills while preparing students for the Cloud+ industry credential. |
| CompTIA IT Fundamentals (Voucher Included) | $895 | The CompTIA IT Fundamentals exam is designed to help you learn more about the world of information technology (IT) and its ideal if youre considering a career in IT or if you work in an allied field that requires a broad understanding of IT. |
| CompTIA Linux+ (Vouchers Included) | $1,295 | Learn the necessary skill-sets to perform maintenance tasks with the command line, install andconfigure a workstation, and be able to configure a basic network in Linux. |
| CompTIA Linux+ and Unix Training (Vouchers Included) | $1,695 | Linux and UNIX products have become a leading infrastructure, both for large corporations as well as government entities. Having these credentials gives students tremendous marketability they can use to obtain positions in the IT field. |
| CompTIA Network+ Certification Training | $1,495 | Prepare for a career as a network technician and qualify to take the CompTIA Network+ certification exam as you master basic networking concepts and gain a fundamental knowledge of network design, security, routing, and switching. |
| CompTIA Network+ Certification Training (Voucher Included) | $1,695 | Prepare for a career as a network technician and qualify to take the CompTIA Network+ certification exam as you master basic networking concepts and gain a fundamental knowledge of network design, security, routing, and switching. |
| CompTIA Project+ | $1,495 | CompTIA Project+ is designed for business professionals who coordinate or manage small-to-medium-size projects, inside and outside of IT. |
| CompTIA Project+ (Voucher Included) | $1,695 | CompTIA Project+ is designed for business professionals who coordinate or manage small-to-medium-size projects, inside and outside of IT. |
| CompTIA Security+ Certification Training | $1,495 | CompTIA Security+ is the certification globally trusted to validate foundational, vendor-neutral IT security knowledge and skills. |
| CompTIA Security+ Certification Training (Voucher Included) | $1,695 | CompTIA Security+ is the certification globally trusted to validate foundational, vendor-neutral IT security knowledge and skills. |
| Corporate Event Planner | $995 | Become a Corporate Event Planner! The CEP course provides a detailed guideline that prepares individuals to become successful corporate event planners. |
| Court Interpreter (Spanish/English) | $2,395 | This program teaches the skills needed to prepare you to sit for the Oral Component of any State Court Interpreting Certification exams. |
| CPC Certified Medical Administrative Assistant with Medical Billing and Coding (Vouchers Included) | $3,195 | The CPC Certified Medical Administrative Assistant with Medical Billing and Coding is geared towards students who are interested in obtaining a career in the healthcare industry, but have little to no experience within the sector. |
| CPC Medical Billing and Coding (Voucher Included) | $2,695 | This Medical Billing and Coding program with 60 hours of medical terminology training, gives you a competitive edge in entering the healthcare field. |
| Customs Broker | $1,895 | Prepare and learn how to take and pass the Customs Broker License Exam. |
| Dental Office Manager | $3,995 | Master the skills you need for a successful career as a dental assistant and obtain the skills to effectively manage a dentists office. |
| Die Setter | $1,695 | The Die Setter course provides an intensive overview of skills necessary for die setting. You will learn math, inspection, safety, materials, quality, and fabrication to work as a die setter. |
| Digital Arts Certificate | $3,295 | The Digital Arts Online Training Program will help you develop technical skills and creative artistry in digital photography, imaging, and illustration. This program covers Adobe Photoshop and Illustrator and more. |
| Digital Game Artist Certificate | $2,595 | The Digital Game Artist Certificate program prepares students to become professional video game artists by training on core skills for jobs related to Digital Art, 3D Art, Modeling, Character Design, and Environmental Art Design. |
| Dise?os Florales de Lujo | $795 | Aprende a crear una variedad de diseos florales de lujo desde centros de mesa, montajes de eventos nupciales, incluyendo iluminacin y consejos de seguridad para decorar el lugar del evento. |
| El Curso Especializado de Dise?o de Bodas y Eventos de Preston Bailey | $1,795 | La firma de Diseo de Bodas y Eventos de Preston Bailey le permite a los estudiantes experimentar paso a paso los procesos y las tcnicas utilizadas por uno de los lderes y expertos a nivel mundial del campo de las bodas y eventos: Preston Bailey. |
| Electrical Technician | $1,995 | This course provides an intensive overview of skills necessary for electrical maintenance. You will learn math, inspection, safety, quality, electrical systems, automation, motor controls, and assembly to work as an electrical technician. |
| Engineering Technician | $1,995 | The Engineering Technician course provides an intensive overview of skills necessary for this manufacturing role. You will learn math, inspection, safety, materials, machining, quality, grinding, electrical systems, automation, motor controls, additive manufacturing, assembly, design, and management to work as an Engineering Technician. |
| Entrepreneurship: Start-Up and Business Owner Management | $2,095 | This program covers everything from financing to leadership. You'll learn the keys to business planning, communication skills, marketing, and management. If you've ever thought about owning your own business, this program can help make that dream come true! |
| Event Management and Design | $1,995 | From planning to pyrotechnics, the Event Management and Design Online Training Program will teach you everything you need to know to create events that are truly special. |
| Executive Housekeeper | $895 | Executive Housekeeping will train you in advanced household maintenance. You will be able to serve as a head housekeeper, in charge of the housekeeping staff at a hospitality group or private residences. |
| EXIN Cloud Computing | $695 | In this EXIN Cloud Foundations program you will become proficient in all areas of cloud technology. |
| Federal Court Interpreter | $2,395 | This program teaches the skills needed to prepare you to sit for the Oral Component of any State and Federal Court Interpreting Certification exams. |
| Fitness Business Management | $1,995 | Learn how to manage a personal training program, department, or facility as a strategic business with this innovative program. |
| Food and Customer Service Skills Training | $850 | The Food and Customer Service Skills Training Certificate Program prepares students for careers in food services, restaurants, and the hospitality industry. |
| Forensic Computer Examiner | $3,095 | The Forensic Computer Examiner Online Training Program will train you to thoroughly examine digital media and to clearly document, control, prepare, and present examination results. This program will prepare you for the Certified Computer Examiner test. |
| Freight Broker/Agent Training | $1,895 | Prepare to enter the freight/logistics industry. This program will prepare you to start your own freight broker business or become a freight agent. |
| Full Stack Software Developer | $4,995 | Learn to become an industry ready software developer at your own speed, in your own time, with your own mentor. |
| Fundamentos de Preston Bailey para el Dise?o Floral | $1,695 | El curso est diseado para principiantes que no tienen experiencia con flores, arreglos florales o diseo floral. Los estudiantes aprenden los trucos que todo buen diseador floral profesional depende. |
| Grant Writing | $2,295 | Learn to write grant proposals that get funded in this nationally recognized Grant Writing online training program. |
| Grant Writing + Non-Profit Management | $3,795 | In this program, you will learn how to write a grant proposal, how to supervise employees, as well as the liabilities that non-profits encounter. |
| Graphic Design with Photoshop | $1,995 | Students will develop graphic design skills while learning the gold standard in photo editing and design software. |
| Graphic Design with Photoshop (Software Included) | $2,195 | Students will develop graphic design skills while learning the gold standard in photo editing and design software. |
| Help Desk Analyst: Tier 1 Support Specialist | $1,495 | Train for a challenging, rewarding career in technical support. This program will teach you to focus on the business needs of the customer, establish credibility, and provide excellent customer service and support! |
| High School Diploma With Certified Protection Officer Training | $1,295 | Earn your high school diploma and CPO certification as you prepare for a career as a security guard or protection officer. |
| High School Diploma With Child Care Training | $1,295 | Earn your high school diploma as you prepare for Child Development Associate (CDA) certification and a career in early childhood education. |
| High School Diploma With Commercial Driving Training | $1,295 | Earn your high school diploma as you prepare for a career in the high-demand field of transportation services. |
| High School Diploma with Food and Hospitality Training | $1,295 | The High School Diploma with Food and Customer Service Skills Training Certificate Program prepares students for careers in food services, restaurants, and the hospitality industry, while they earn their high school diplomas. |
| High School Diploma With General Career Preparation | $1,295 | Earn your high school diploma and prepare to enter the job market as you master skills valued by today's employers. |
| High School Diploma with Home Care Professional | $1,295 | The Home Care Professional course prepares for an accredited high school diploma while simultaneously training for an in-demand career in home care. |
| High School Diploma With Homeland Security Training | $1,295 | Earn your high school diploma as you prepare for a career in the high-demand field of criminal justice and homeland security. |
| High School Diploma with Hospitality and Leisure | $1,295 | The Hospitality and Leisure Certificate program prepares students for careers in the events, leisure, food services, tourism, and hospitality industries. |
| High School Diploma With Office Management Training | $1,295 | Earn your high school diploma online as you prepare for a career as an office manager, receptionist, data input specialist, or customer service representative. |
| High School Diploma with Retail Customer Service Skills Training | $1,295 | The High School Diploma with Retail Customer Service Skills Training Certificate Program prepares students with the skills and knowledge needed for successful careers in todays retail world, while they earn High School credits. |
| Home Inspection Certificate | $2,295 | Learn about standards of practice, defects recognition, inspection guidelines, reporting methodologies, and liability management as you prepare to become a home inspector. |
| Horse Care Management | $2,995 | Horse Care Management teaches the principles of equine husbandry and a practical knowledge of horse care management skills. This comprehensive course is perfect for individuals interested in horses, horse care, or starting a career in the horse industry. |
| Hotel Management | $995 | This course provides a comprehensive introduction to the fundamentals of the hospitality industry and an overview of the various roles and responsibilities within hotel management. |
| Hotel Management with Executive Housekeeper | $1,595 | Position yourself for career advance within the hospitality industry by learning the fundamentals of hotel management and executive housekeeping. |
| Household Manager | $1,595 | This course provides specialized training in estate and household management. You will learn how to manage the estates and private service employees of high net-worth individuals. |
| Household Manager with Executive Housekeeper | $2,195 | Many large estates rely on household managers to oversee the home and other staff. Training to become a household manager with a specialty in executive housekeeping will prepare you for career advancement in the private service industry. |
| Human Resources Professional | $1,795 | Master the skills you need to gain an entry-level position in human resources and prepare to take the PHR (Professional in Human Resources) certification exam. |
| HVACR Certified Technician | $3,795 | The HVACR Certified Technician program is a comprehensive online training that encompasses heating, ventilation, air conditioning, and refrigeration. |
| HVACR Controls/Building Automation Systems | $3,695 | The program will build on your existing knowledge of HVACR fundamentals and equipment and help you learn HVACR Controls and Building Automation Systems. |
| HVACR Technician - NATE Service Core (Voucher Included) | $2,295 | An HVACR Introductory program designed to address the CORE knowledge areas of Heating, Ventilation, Air Conditioning and Refrigeration. |
| ICD-10 Medical Coding | $1,795 | Prepare for the future of medical coding by mastering the steps for using the ICD-10-CM and ICD-10-PCS to code medical diagnoses and procedures. |
| Information Security Master Certification Training | $2,495 | This training bundle covers all crucial areas of security; from network security, cloud security, database security and even project management security procedures. |
| Information Security Master Certification Training (Vouchers Included) | $5,695 | This training program covers all crucial areas of security; from network security, cloud security, database security and even project management security procedures. |
| Information Security Training | $1,795 | This training program includes 3 of the most valuable certifications in IT Security. These credentials command some of the most lucrative salaries available in the IT field. |
| Information Security Training (Vouchers Included) | $3,295 | This training program includes 3 of the most valuable certifications in IT Security. These credentials command some of the most lucrative salaries available in the IT field. |
| IT Foundations Bundle | $1,195 | This introductory programme is suitable for delegates who are new to IT and those with ITSM experience looking to achieve a globally recognised certificate. ITIL Foundation and SIAM Foundation certifications are a pre-requisite for more advance level training. |
| IT Foundations Bundle (Vouchers Included) | $1,795 | If you are new to Information Technology, this course teaches the basics of IT Service Management (ITSM) and project management, while incorporating ITIL, SIAM, and DevOps framework, concepts and processes. You will also be prepared to pass the globally recognized ITIL Foundation, SIAM Foundation, and DevOps Foundation certification exams. |
| IT Security Survival Training | $1,995 | This training bundle includes a core group of training courses needed to acquire the certifications necessary to compete for many of the positions available in IT security. |
| IT Security Survival Training (Vouchers Included) | $4,295 | This training program includes a core group of training courses needed to acquire the certifications necessary to compete for many of the positions available in IT security. |
| ITIL Capability Expert | $1,995 | The online ITIL Capability Expert training is the perfect way for seasoned IT professionals to prepare for the ITIL Expert certification exam. |
| ITIL Capability Expert (Vouchers Included) | $3,295 | The online ITIL Capability Expert training is the perfect way for seasoned IT professionals to prepare for the ITIL Expert certification exam. |
| ITIL Foundation (Voucher Included) | $795 | This online training program is geared towards students who are new to ITIL and those with ITIL experience looking to achieve a globally recognized certification. |
| ITIL Lifecycle Expert | $1,995 | This online ITIL Lifecycle Expert training program prepares you for the Lifecycle Expert certification exam and guarantees all the required number of credits for an ITIL Expert status. |
| ITIL Lifecycle Expert (Vouchers Included) | $3,595 | This online ITIL Lifecycle Expert training program prepares you for the Lifecycle Expert certification exam and guarantees all the required number of credits for an ITIL Expert status. |
| Java Programmer | $995 | Learn Java programming in this online training program that covers fundamental Java syntax elements and more advanced concepts. |
| Leadership in Energy and Environmental Design (LEED) | $695 | The Leadership in Energy Environmental Design (LEED) Green Associate program is designed to educate candidates on the cutting edge green building and sustainable design practices, and enables participants to designate that expertise with an internationally recognized professional credential. |
| Lean Six Sigma Black Belt (Exam Cost Included) | $1,695 | Learn the principles of Lean Six Sigma and prepare to take the Lean Six Sigma Black Belt certification exam. |
| Lean Six Sigma Black Belt with 1-on-1 Project Coaching (Exam Cost Included) | $2,695 | Learn the principles of Lean Six Sigma and prepare to take the Lean Six Sigma Black Belt certification exam. |
| Lean Six Sigma Green Belt (Exam Cost Included) | $1,495 | Learn the process improvement method of Lean Six Sigma by teaching you how to deliver measurable, sustainable stream lined improvements and finding the root causes of problems. This Green Belt training will also prepare you for the Lean Six Sigma Green Belt Certification exam. |
| Lean Six Sigma Green Belt and Black Belt (Exam Cost Included) | $2,295 | In this online program you will learn the principles of both Lean Six Sigma Green Belt and Lean Six Sigma Black Belt, before sitting for the certification exams. |
| Lean Six Sigma Green Belt with Black Belt with 1-on-1 Project Coaching (Exam Cost Included) | $3,195 | In this online program you will learn the principles of both Lean Six Sigma Green Belt and Lean Six Sigma Black Belt, before sitting for the certification exams. |
| Lean Six Sigma Yellow Belt (Exam Cost Included) | $295 | Lean Six Sigma Yellow Belt is an online, high-level, awareness course that teaches you the fundamentals of Lean Six Sigma process improvement. |
| Lean Training (Exam Cost Included) | $695 | This in-depth online course will teach you how to utilize the principles of Lean process improvement as you prepare to test for Lean Certification. |
| Legal Secretary | $2,295 | Master the skills you need to be a legal secretary and prepare for the National Association of Legal Professionals (NALS) Accredited Legal Secretary (ALS) exam. |
| Maintenance Technician | $1,695 | This Maintenance Technician training program allows you to identify the required knowledge and skills that provide a pathway toupskillandvalidated worker competences. |
| Management for IT Professionals | $2,295 | Learn leadership skills that will help you succeed as a manager in the IT field by exploring different decision-making techniques. This program focuses on developing a successful leadership style that facilitates team building, collaboration, and a corporate culture that promotes success. |
| Management Training | $2,295 | If you're thinking of starting a business or pursuing an MBA, learn the essentials here! The Management Training Online Program is perfect for business owners, entrepreneurs, and anyone who wants to learn the basics of business and management. |
| Manual Machinist | $1,695 | The Manual Machinist course teaches an intensive overview of skills necessary to perform manual machining. You will learn workholding, math, inspection, safety, machining, materials, quality, grinding, and assembly to work as a Manual Machinist. |
| Marketing Design Certificate | $3,295 | This program focuses on design for marketing and businesscreating logos, advertisements, communications, and more. Youll learn Photoshop, Illustrator, and Microsoft PowerPoint while gaining fundamental technical and aesthetic skills. |
| Mastering Project Management with Microsoft Project 2010 | $1,695 | In this intermediate/advanced level program, youll translate your knowledge into skills by exploring key project management topics in depth and prepare for the Project Management Professional (PMP) certification. You will also learn how to use Microsoft Project 2010 to assist you in project management. |
| Mastering Project Management with Microsoft Project 2016 | $1,695 | In this intermediate/advanced level program, youll translate your knowledge into skills by exploring key project management topics in depth and prepare for the Project Management Professional (PMP) certification. You will also learn how to use Microsoft Project 2016 to assist you in project management. |
| Mastering Project Management with Microsoft Project 2016 (Software Included) | $2,495 | In this intermediate/advanced level program, youll translate your knowledge into skills by exploring key project management topics in depth and prepare for the Project Management Professional (PMP) certification. You will also learn how to use Microsoft Project 2016 to assist you in project management. |
| Mastering Project Management with PMP Prep | $1,295 | This program takes you beyond the basics of project management. In this intermediate/advanced level program, youll translate your knowledge into skills by exploring key project management topics in depth. |
| Mechatronics | $1,995 | Mechatronics provides an intensive overview of skills necessary for the mechatronics industry, including math, inspection, safety, quality, electrical systems, automation, mechanical systems, fluid systems, rigging, and welding. |
| Medical Interpreter (Spanish/English) | $2,395 | This program teaches the skills needed to prepare you to work as a Medical Interpreter and to sit in any of the Medical Interpreting examinations available in the country. |
| Medical Office Manager (CPPM) (Vouchers Included) | $3,995 | This program teaches the skills needed to prepare you for a career as a Medical Office Manager. |
| Medical Terminology | $795 | Get the education you need to get started in the medical field. This program will teach you proper medical terminology and spelling. |
| Microsoft Access 2010 Certification Training | $595 | The Microsoft Access 2010 course will prepare you to take your Microsoft Certification Exam and familiarize you with various tasks within Microsoft Access. |
| Microsoft Access 2013 Certification Training | $595 | The Microsoft Access 2013 (MOS) training program prepares students for the Microsoft Office Specialist Certification Exam 77-424. |
| Microsoft Access 2016 Certification Training | $595 | The Microsoft Access 2016 (MOS) training program prepares you for the Microsoft Office Specialist Certification Exam 77-730. |
| Microsoft Access 2016 Certification Training (Voucher Included) | $695 | The Microsoft Access 2016 (MOS) training program prepares students for the Microsoft Office Specialist Certification Exam 77-730. |
| Microsoft Certified Solutions Associate (MCSA): Server 2012 | $2,195 | In the Microsoft Certified Solutions Associate (MCSA): Server 2012 program prepares students to install, configure, and manage a Server 2012 network. |
| Microsoft Certified Solutions Associate (MCSA): Server 2012 (Voucher Included) | $2,595 | In the Microsoft Certified Solutions Associate (MCSA): Server 2012 program prepares students to install, configure, and manage a Server 2012 network. |
| Microsoft Certified Solutions Associate (MCSA): SQL Server 2012 | $1,995 | The Microsoft Certified Solutions Associate (MCSA): SQL Server 2012 program prepares students to administer, query, and implement data warehouses with SQL Server 2012. |
| Microsoft Certified Solutions Associate (MCSA): SQL Server 2012 (Voucher Included) | $2,395 | The Microsoft Certified Solutions Associate (MCSA): SQL Server 2012 program prepares students to administer, query, and implement data warehouses with SQL Server 2012. |
| Microsoft Certified Solutions Associate (MCSA): Windows 7 | $1,995 | This online training program will prepare students for the Microsoft Certified Solutions Associate (MCSA) Windows 7 certification and will train them to identify the cause and resolution of desktop application, network, and security issues. |
| Microsoft Excel 2013 Certification Training | $595 | The Microsoft Excel 2013 Certification Training program prepares students for the Microsoft Office Specialist (MOS) Certification Exam 77-420. |
| Microsoft Excel 2016 Certification Training | $595 | The Microsoft Excel 2016 (MOS) training program prepares students for the Microsoft Office Specialist Certification Exams 77-727 and 77-728. |
| Microsoft Excel 2016 Certification Training (Vouchers Included) | $750 | The Microsoft Excel 2016 (MOS) training program prepares students for the Microsoft Office Specialist Certification Exams 77-727 and 77-728. |
| Microsoft Office 2013 Master | $1,695 | The Microsoft Office 2013 Master training program prepares students for the Microsoft Office Specialist (MOS) Certification Exams 77-418, 77-425, and 77-426 (Word), 77-420, 77-427, and 77-428 (Excel), 77-422 (PowerPoint), and 77-423 (Outlook). |
| Microsoft Office 2016 Master Certification Training | $1,695 | This program teaches the skills needed to prepare you to sit for the Microsoft Office Master 2016 Certification exams. |
| Microsoft Office 2016 Master Certification Training (Vouchers Included) | $2,195 | This program teaches the skills needed to prepare you to sit for the Microsoft Office Master 2016 Certification exams. |
| Microsoft Office Specialist 2013 | $1,995 | The Microsoft Office Specialist 2013 training program prepares students for the Microsoft Office Specialist Certification Exams 77-418, 77-425, and 77-426 (Word), 77-420, 77-427, and 77-428 (Excel), 77-422 (PowerPoint), 77-423 (Outlook), and 77-424 (Access). |
| Microsoft Office Specialist 2016 (MOS) Certification Training | $1,995 | This program teaches the skills needed to prepare you to sit for the Microsoft Office Specialist 2016 Certification exams. |
| Microsoft Office Specialist 2016 (MOS) Certification Training (Vouchers Included) | $2,595 | This course teaches the skills needed to prepare you to sit for the Microsoft Office Specialist 2016 Certification exams. |
| Microsoft Outlook 2013 Certification Training | $595 | The Microsoft Outlook 2013 (MOS) training program prepares students for the Microsoft Office Specialist (MOS) Certification Exam 77-423. |
| Microsoft Outlook 2016 Certification Training | $595 | The Microsoft Outlook 2016 (MOS) training program prepares students for the Microsoft Office Specialist Certification Exam 77-731 (Outlook). |
| Microsoft Outlook 2016 Certification Training (Voucher Included) | $650 | The Microsoft Outlook 2016 (MOS) training program prepares students for the Microsoft Office Specialist Certification Exam 77-731. |
| Microsoft PowerPoint 2013 Certification Training | $595 | The Microsoft PowerPoint 2013 Certification Training program prepares students for the Microsoft Office Specialist (MOS) Certification Exam 77-422. |
| Microsoft PowerPoint 2016 Certification Training | $595 | The Microsoft PowerPoint 2016 MOS Certification Training course prepares students to take the Microsoft Office Specialist PowerPoint 2016 Exam 77-729. |
| Microsoft PowerPoint 2016 Certification Training (Voucher Included) | $650 | This Microsoft PowerPoint 2016 MOS Certification Training course prepares students to take the Microsoft Office Specialist PowerPoint 2016 Exam 77-729. |
| Microsoft Project 2010 | $795 | This program combines knowledge of project management scheduling disciplines with the use of the Microsoft Project 2010 software. |
| Microsoft Project 2016 | $795 | This program combines knowledge of project management scheduling disciplines with the use of the Microsoft Project 2016 software. |
| Microsoft SharePoint 2010 Certification Training | $795 | This SharePoint 2010 training program prepares you to take the Microsoft Certification Exam 77-886 in order to achieve a certification as a Microsoft Office Specialist. |
| Microsoft SharePoint 2013 Certification Training | $795 | Engage in the Microsoft SharePoint 2013 Certification Training program if you are either new to or experienced in working with SharePoint 2013. |
| Microsoft SharePoint 2016 | $795 | This SharePoint 2016 training program will provide you with the skills you need to work within and manage SharePoint sites. |
| Microsoft Web Developer | $1,995 | In this program you will learn web development, C Sharp, HTML, CSS, SQL Server, JavaScript, Object based JavaScript, Model View and Controller and jQuery. |
| Microsoft Word 2013 Certification Training | $595 | The Microsoft Word 2013 Certification training program prepares students for the Microsoft Office Specialist (MOS) Certification Exam 77-418. |
| Microsoft Word 2016 Certification Training | $595 | This Microsoft Word 2016 MOS Certification Training course helps prepare students to take the following Microsoft Office 2016 MOS and Expert certification exams: 77-725 Microsoft Office Specialist Word 2016 and 77-726 Microsoft Office Specialist Word Expert 2016. |
| Microsoft Word 2016 Certification Training (Vouchers Included) | $750 | This Microsoft Word 2016 MOS Certification Training course helps prepare students to take the following Microsoft Office 2016 MOS and Expert certification exams: 77-725 Microsoft Office Specialist Word 2016 and 77-726 Microsoft Office Specialist Word Expert 2016. |
| Mobile and Desktop Web Developer / Responsive Web Design | $2,995 | Students who successfully complete this career course will have developed a solid background in all of the latest technologies associated with web development for both desktop and mobile environments, and at the very end of the program, students will be able to build traditional and mobile websites. |
| Mobile Web Developer | $2,295 | In this course, learn to develop websites for mobile devices, such as Androids and iPhones. |
| MSP Foundation and Practitioner Certification Training | $895 | Learn to create a framework that organizes large, complex programs into manageable, interrelated projects with this Program Management course. |
| Multimedia Arts Certificate | $3,295 | The Multimedia Arts Online Training Program gives you the conceptual, technical, and visual design skills required to create multimedia applications and environments. Youll explore Adobe Photoshop, Flash, and After Effects, as well as digital video editing. |
| NASM Certified Personal Trainer + Corrective Exercise (Vouchers Included) | $1,895 | This online program will help you pass and earn your NASM Certified Personal Trainer certification, one of the most respected certifications in the fitness industry with the addition of the NASM Corrective Exercise Specialist (CES). |
| NASM Certified Personal Trainer + Performance Enhancement (Vouchers Included) | $1,895 | This online program will prepare you to pass and earn your NASM Certified Personal Trainer certification, one of the most respected certifications in the fitness industry with the addition of the NASM Performance Enhancement Specialist (PES). |
| NASM Certified Personal Trainer and Exam Preparation (Voucher Included) | $1,295 | This course will prepare you to pass the National Academy of Sports Medicine (NASM) exam and earn your NASM Certified Personal Trainer certification, which is one of the most respected certifications in the fitness industry. |
| NASM Corrective Exercise Specialist (CES) (Exam Included) | $695 | With the NASM- Corrective Exercise Specialist (CES), youll learn the knowledge, skills and abilities to help clients at any fitness level address muscular imbalances and faulty movements. |
| NASM Performance Enhancement Specialist (PES) (Exam Included) | $695 | Behind every top athlete, there's a great trainer. Get your NASM Performance Enhancement Specialization and get the opportunity to train the best. |
| Natural Gas Plant Operations | $2,595 | For decades to come, natural gas will be produced and consumed in the United States, creating an ongoing demand for natural gas plant operators. This online program provides the fundamental technical background you need to get started in this field. |
| NCSF Certified Strength Coach | $595 | This program is designed to provide students with the necessary knowledge, skills, and abilities to successfully pass the NCSF Certified Strength Coach (CSC) Exam and work safely and effectively as a Certified Strength Coach. |
| NCSF Sports Nutrition Specialist | $595 | This program is designed to provide students with the necessary knowledge, skills, and abilities to successfully pass the NCSF Sport Nutrition Specialist (SNS) Exam and work safely and effectively as a Sport Nutrition Specialist. |
| Non-Profit Management | $2,295 | Examine the fundamental principles of nonprofit management, explore the roles and responsibilities of a nonprofit board of directors and the management team, discover the essential aspects of fundraising, and become acquainted with the fundamentals of the budgeting process. |
| Nutrition for Optimal Health, Wellness, and Sports | $1,995 | Learn to develop individual nutrition programs for clients, patients, or personal use. |
| Oil Refinery Operations | $2,595 | Learn the skills you need to start work as an in-demand oil refinery operator. |
| OMCA Content Marketing Associate (Voucher Included) | $1,495 | Learn the hottest role in digital marketing and prepare for the nationally recognized OMCA content marketing certification. |
| OMCA Conversion Optimization Associate (Voucher Included) | $1,595 | Become a valuable asset to your existing or future marketing team. Get conversion optimization training, and prepare for the OMCA certification exam. |
| OMCA Display Advertising Associate (Voucher Included) | $1,495 | Prepare for your OMCA display advertising certification and start or improve your digital marketing career as you learn to explain, evaluate and dissect display ad data, and best practices in building and maintaining display ad campaigns. |
| OMCA Email Marketing Associate (Voucher Included) | $1,495 | Want to learn email marketing? Make the most of your companys email efforts and prepare for the OMCA certification exam. |
| OMCA Mobile Marketing Associate (Voucher Included) | $1,595 | Prepare for the nationally recognized OMCA mobile marketing certification to start or improve your career in digital marketing. |
| OMCA PPC Associate (Voucher Included) | $1,595 | Learn PPC marketing and how to bid on keywords that get your company noticed, all while preparing for the OMCA certification exam. |
| OMCA SEO Associate (Voucher Included) | $1,595 | Learn search optimization, one of the most talked about aspects of digital marketing. Train with industry experts and prepare for the OMCA certification exam. |
| OMCA Social Media Associate (Voucher Included) | $1,595 | Prepare for the nationally recognized OMCA social media marketing certification to start or improve your career in digital marketing. |
| OMCA Web Analytics Associate (Voucher Included) | $1,595 | Want to make sense of all your marketing data? Get web analytics training while simultaneously preparing for the OMCA certification exam. |
| OMCP Digital Analytics and Conversion Professional | $1,795 | In this course, you will learn how to further your career as an analytics and conversion focused digital marketer, and make business decisions based on web numbers. This program will also prepare you for the OMCP certification exam. |
| OMCP Digital Analytics and Conversion Professional (Voucher Included) | $1,995 | In this course, you will learn how to further your career as an analytics and conversion focused digital marketer, and make business decisions based on web numbers. This program will also prepare you for the OMCP certification exam. |
| OMCP Email Marketing and Automation Professional | $1,795 | In this course, you will master the art of reaching people by email and building an ongoing relationship using marketing automation. It will also prepare you for the OMCP certification exam. |
| OMCP Email Marketing and Automation Professional (Voucher Included) | $1,995 | In this course, you will master the art of reaching people by email and building an ongoing relationship using marketing automation. It will also prepare you for the OMCP certification exam. |
| OMCP Paid Search Professional | $1,795 | This course teaches you about digital marketing and a deep dive of paid digital advertising. You will learn how to drive traffic using paid ads, and ensure you are bringing a return. You'll also be prepared to take the Online Marketing Certified Professional (OMCP) exam. |
| OMCP Paid Search Professional (Voucher Included) | $1,995 | This course teaches you about digital marketing and a deep dive of paid digital advertising. You will learn how to drive traffic using paid ads, and ensure you are bringing a return. You'll also be prepared to take the Online Marketing Certified Professional (OMCP) exam. |
| OMCP Search Marketing Professional | $1,795 | In this course, youll learn the scope of digital marketing and dive deep into Search Engine Optimization (SEO) techniques. You will also be prepared for the OMCP certification exam. |
| OMCP Search Marketing Professional (Voucher Included) | $1,995 | In this course, youll learn the scope of digital marketing and dive deep into Search Engine Optimization (SEO) techniques. You will also be prepared for the OMCP certification exam. |
| OMCP Social and Mobile Marketing Professional | $1,795 | In this course, you will learn how to build mobile and social marketing campaigns from start to finish and further your career as a social media and mobile marketing focused digital marketer. You will also be prepared to take the OMCP certification exam. |
| OMCP Social and Mobile Marketing Professional (Voucher Included) | $1,995 | In this course, you will learn how to build mobile and social marketing campaigns from start to finish and further your career as a social media and mobile marketing focused digital marketer. You will also be prepared to take the OMCP certification exam. |
| Optical Manager | $3,995 | Master the skills you need for a successful career as an optician and obtain the skills to effectively manage an optometrists office. |
| Optician Certification Training | $1,895 | Master the skills you need for a successful career as an optician and prepare yourself to take the ABO certification exam. |
| Oracle SQL and PL/SQL + Python Developer + Java Programmer | $2,595 | Master Oracle Programming in this combined online training that teaches. As the perfect starting point for those wanting to learn SQL, PL/SQL, Java, and Python programming, this online program will teach you everything from the basics to advanced practices. |
| Oracle SQL and PL/SQL Developer | $995 | This Oracle SQL Developer program teaches students how to use SQL to build applications, generate business reports, master SQL in Oracle, and learn PL/SQL to work within an Oracle database. |
| Oracle SQL and PL/SQL Developer + Java Programmer | $1,795 | As the perfect starting point for those wanting to learn SQL and Java programming, this online program will teach you everything from the basics to advanced practices |
| Paralegal | $1,995 | The Paralegal Online Training Program will prepare you for success in this growing career field. You'll learn about the American legal system, how to conduct legal research and legal interviews, how to perform legal analyses, and more. Your training will prepare you to become a legal secretary or paralegal and to take the certification exam. |
| Paralegal (Voucher Included) | $2,195 | In this program you will prepare you to become a legal secretary or paralegal and to take the Certified Paralegal certification exam. |
| Payroll Practice and Management | $1,795 | Become knowledgeable in all facets of payroll rules and regulations, and join one of the fastest-growing career fields today. |
| Peer Support Specialist | $595 | This program will introduce students to Peer Recovery Services which are provided by people who have personal, lived experience in recovery from addiction, mental illness, or co-occurring substance and mental disorders. |
| Personal Training and Group Exercise Training for Older Adults | $1,995 | Gain the knowledge you need to develop safe and effective exercise programs for older adults. |
| Pharmacy Technician (Voucher Included) | $2,495 | Pharmacy technicians support licensed pharmacists in providing health care to patients. Train to enter this rapidly growing field with this respected online program. |
| Physical Therapy Aide | $1,895 | Master the skills you need to begin a career as a physical therapy aide. You will learn the responsibilities of a PT aide, patient care, anatomy and medical terminology, and the legal and ethical regulations that affect healthcare providers. |
| Plan de Estudios del Curso de Certificaci?n de Organizaci?n de Bodas y Eventos | $1,595 | Los Planificadores de Bodas combinan creatividad y organizacin para ayudar a las parejas a celebrar el da ms importante de sus vidas. Entrenados para una carrera rodeada de eventos de celebracin! |
| PMI Risk Management Professional | $695 | PMI's Risk Management Professional (PMI-RMP) credential is a solution to project management's increasing growth, complexity and diversity. |
| PMI Risk Management Professional (Exam Cost Included) | $995 | PMI's Risk Management Professional (PMI-RMP) credential is a solution to project management's increasing growth, complexity and diversity. |
| PMI-PgMP Certification Training | $495 | Designed for Mid- or Senior-Level professionals in Project Management, this program will give you the skills to handle multiple projects. |
| Power Plant Operations | $2,595 | Learn the skills you need to gain entry-level employment as a power plant operator. |
| Press Operator: Cold Stamping | $1,495 | This Press Operator: Cold Stamping training program allows you to identify the required knowledge and skills that provide a pathway to upskill and validated worker competence. |
| Press Operator: Hot Stamping | $1,495 | This course provides an intensive overview of skills necessary for hot stamping press work. You will learn the math, inspection, safety, materials, quality, stamping, forming, and automation to work as a hot stamping press operator. |
| Preston Bailey's Fundamentals of Floral Design | $1,695 | The Preston Bailey Floral Design course is an opportunity for students to learn the fundamentals of floral design from Preston Bailey, the industry's most highly regarded floral design expert. |
| Preston Bailey's Intermediate Floral Design | $1,895 | From designing table tops to creating floral sculptures and room transformations, Preston guides students through his design techniques and processes. |
| Preston Bailey's Signature Wedding & Event Design | $1,795 | Preston Baileys Signature Wedding Event Design course allows students to experience the step-by-step processes and techniques utilized by one of the globe's leading wedding and event experts, industry pioneer Preston Bailey. |
| PRINCE2 Foundation and Practitioner Certification Training | $795 | Master the PRINCE2 principles, themes, and processes that will help you ensure success with each of the projects that you handle with this PRINCE2 Foundation and Practitioner program. |
| PRINCE2 Foundation Certification Training | $595 | In this PRINCE2 foundation course, you will master the PRINCE2 principles, themes, and processes that will help you ensure success in your projects. |
| Process Technician | $1,995 | Process Technician provides an intensive overview of skills necessary to become a process technician. This program will teach you math, inspection, safety, machining, quality, electrical systems, automation, mechanical systems, motor controls, fluid systems, and joining to work as a process technician. |
| Professional Bookkeeping with QuickBooks 2015 | $1,895 | This program teaches students how to master professional bookkeeping using QuickBooks 2015 software. |
| Professional Bookkeeping with QuickBooks 2015, Software Included | $1,995 | This program teaches students how to master professional bookkeeping using QuickBooks 2015 software. |
| Professional Bookkeeping with QuickBooks 2017 | $1,895 | Prepare for a career in the high-demand field of bookkeeping and accounting as you master QuickBooks 2017the leading financial software tool for small businesses. |
| Professional Bookkeeping with QuickBooks 2018 | $2,095 | This course prepares you to use QuickBooks on a regular basis as a practicing bookkeeper. |
| Professional Bookkeeping with QuickBooks 2018 (Software Included) | $2,195 | This course prepares you to use QuickBooks on a regular basis as a practicing bookkeeper. |
| Professional Bookkeeping with QuickBooks 2018 with Payroll Practice and Management | $3,495 | This course bundle will prepare you for a career in bookkeeping, one of the fastest-growing career fields today. You will master QuickBooks 2018 and gain a critical understanding of payroll rules, regulations, and legal standards. |
| Professional Bookkeeping with QuickBooks 2018 with Payroll Practice and Management (Software Included) | $3,595 | This course bundle will prepare you for a career in bookkeeping, one of the fastest-growing career fields today. You will master QuickBooks 2018 and gain a critical understanding of payroll rules, regulations, and legal standards. |
| Professional Certificate in Tech Fundamentals | $1,695 | Learn to speak the language of coding, without having to become a software developer to do so. Closing the gap between Code and Communication. |
| Professional Interpreter | $995 | Master the skills and knowledge you need to begin a career as a professional interpreter. |
| Professional Recovery Coach | $1,695 | Addiction is a pervasive problem in our society and there are many approaches that have been developed to achieve sobriety and long-term recovery. In this program, students will learn the role of the Professional Recovery Coach and the dynamics of a strengths-based system for changing addictive behavior through a process of reconnecting to ones joyful identity. |
| Professional Translator | $2,395 | This program teaches the skills to become a professional translator into both languages English and Spanish. This program also prepares you to sit for the American Translators Association (ATA) certification exam. |
| Programa de Certificado de Conocimiento B?sico de HVACR NATE Core | $2,295 | Un programa de introduccin a la industria HVACR diseado a fin de abordar el conocimiento fundamental de la calefaccin, la ventilacin, el aire acondicionado y la refrigeracin. |
| Project Management Essentials with CAPM Prep | $1,195 | This program is designed for those who are new to project management and will provide you with a solid foundation of the most common terms and concepts youll need and help you prepare for the Certified Associate In Project Management (CAPM) certification exam. CAPM and PMP are registered marks of Project Management Institute, Inc. |
| Purchasing and Supply Chain Management | $2,295 | Develop essential managerial skills, and learn how to effectively manage all aspects of the purchasing process, including procurement, distribution, supply chain management, and more, with the skills youll learn in this online program. |
| Purchasing and Supply Chain Management + Freight Broker/Agent Training | $3,695 | In this online training program, you will learn the agility and precision needed to be successful within purchasing, logistics, and supply chain management professions. |
| Python Developer | $995 | This program is aimed at those new to the Python programming language who may or may not have experience with other programming languages. You will learn all about Python programming in this comprehensive program that covers introductory through advanced methods of Python. |
| Quality Inspector | $1,995 | The Quality Inspector course provides an intensive overview of skills necessary for quality assurance and inspection. You will learn math, inspection, safety, materials, quality, and management to be a Quality Inspector. |
| Records Management Certificate | $1,595 | This comprehensive program will help you establish a successful records management program, including electronic, magnetic, and paper media. |
| Restaurant Management | $995 | Restaurant Management covers the practical components for successfully overseeing a restaurant or realizing a restaurant concept. |
| Retail Customer Service Skills Training | $850 | The Retail Customer Service Skills Training Program prepares students with the skills and knowledge needed for successful careers in todays retail world. |
| Robotics Technician | $1,695 | Accelerated training packages for common manufacturing roles allow you to identify the required knowledge and skills for each worker and provide a pathway to upskill and validate workers competences. |
| Sage 50 Certificate (Voucher Included) | $895 | Sage 50 is the perfect program for those trying to expand their knowledge in accounting, or those looking for an entry level position in the field. |
| Salesforce Administrator | $595 | Learn the core administrative features of Salesforce to tailor the system for your specific implementation and prepare for the Salesforce Administrator Certification Exam. |
| Salesforce: Power User | $695 | With Salesforce being the most popular CRM in the world, having a strong base of knowledge in Sales Force not only enhances your marketability but also gives you skills that will allow you to be more efficient in day to day use of the software. |
| Senior Certified Sustainability Professional | $2,495 | Are you prepared for an exciting career as a leader in the green collar economy? The Senior Certified Sustainability Professional Online Training Program will prepare you to set the course and coordinate an enterprise's sustainability strategy. |
| Senior Professional In Human Resources | $1,795 | Learn about Human Resources to advance your career within industry. You will also be prepared to take the Professional Human Resources (SPHR) certification exam offered by the HR Certification Institute. |
| Six Sigma Black Belt | $2,695 | The Six Sigma Black Belt Online Career Training Program provides you with an in-depth look at the Six Sigma Black Belt problem-solving methodology, deployment, and project development approaches. |
| Six Sigma Yellow Belt | $1,295 | ASQs Six Sigma Yellow Belt course helps you gain a detailed understanding of the role, responsibilities, and knowledge required of a Six Sigma Yellow Belt and prepares you to take ASQs Six Sigma Yellow Belt Certification exam. |
| Social Service Assistant | $695 | This course is designed to give you the training and insight in working with the Social Service programs in nursing homes. |
| Solar Power Professional | $1,895 | Learn the fundamentals of photovoltaic solar powered energy systems and gain the knowledge you'll need for an entry level position with a dealer, installer, or other photovoltaic industry company. |
| SSCP Systems Security Certified Practitioner | $1,595 | The Systems Security Certified Practitioner Training program is an ideal course for individuals interested in advancing their knowledge of information and systems security. |
| SSCP Systems Security Certified Practitioner (Voucher Included) | $1,795 | The Systems Security Certified Practitioner Training program is an ideal course for individuals interested in advancing their knowledge of information and systems security. |
| Technical Writing | $1,795 | This program is designed for anyone who wishes to develop their technical writing abilities to a professional level. You'll learn research methods, audience considerations, style, drafting and revision techniques, how to work in a collaborative environment, and more. |
| The Complete Project Manager with CAPM and PMP Prep | $1,995 | This is a comprehensive project management program for those who want to expand their knowledge and application of project management concepts. It is designed to create skills for todays project practitioners and prepare them for either the CAPM or PMP certifications. |
| The Complete Project Manager with Microsoft Project 2010 | $2,295 | This is a comprehensive project management program for those who want to expand their knowledge and application of project management concepts. It is designed to prepare students for either the CAPM or PMP certifications. You will also learn how to use Microsoft Project 2010 to assist you in project management. |
| The Complete Project Manager with Microsoft Project 2016 | $2,295 | This is a comprehensive project management program for those who want to expand their knowledge and application of project management concepts. It is designed to prepare students for either the CAPM or PMP certifications. You will also learn how to use Microsoft Project 2016 to create and manage project schedules. |
| The Complete Project Manager with Microsoft Project 2016 (Software Included) | $2,795 | This is a comprehensive project management program for those who want to expand their knowledge and application of project management concepts. It is designed to prepare students for either the CAPM or PMP certifications. You will also learn how to use Microsoft Project 2016 to create and manage project schedules. |
| Tool and Die Maker | $1,995 | The Tool and Die Maker course provides an intensive overview of skills necessary for tool and die making. You will learn workholding, math, inspection, safety, machining, materials, quality, and grinding. |
| Toolmaker | $1,695 | The Toolmaker program provides an intensive overview of skills necessary for toolmaking. You will learn workholding, math, inspection, safety, machining, materials, quality, grinding, and stamping to work as a toolmaker. |
| Travel Agent Training | $1,795 | Learn the basic skills needed to operate a computer reservation system for airlines, travel agencies, cruise lines, hotels, or as a home-based agent, and get started in a career in the travel industry! |
| UNIX Administration Basics | $695 | The Unix Administration program covers the fundamental concepts of Unix including basic commands, filesystem structure, back-up compression and much more. |
| Veterinary Assistant | $1,995 | This program will prepare you to become a productive member of a veterinary team. |
| Veterinary Assistant with Horse Care Management | $3,995 | Veterinary Assistant with Horse Care Management teaches the specialized skills that stables, equestrian centers, and large animalveterinaryfacilities look for. Together, these courses provide the comprehensive training needed to be a veterinary assistant with an additional focus on horse care techniques. |
| Veterinary Office Manager | $3,995 | Those looking to gain basic knowledge and start a career on the non-clinical side of dentistry veterinary and preparation for ascending into office management. |
| Video Game Design and Development | $1,995 | Using a comprehensive and analytical approach to game engine architectures, this program teaches you how to effectively design and develop games. |
| VMware Certified Associate | $2,195 | This foundational course prepares students to administer a vSphere infrastructure for an organization of any size and prepares students for the VMWare Certified Associate (VCA) 1V0-701 exam. |
| Web Applications Developer | $2,395 | Master the skills you need to create dynamic database-driven websites using the latest technologies. |
| Web Design Professional | $2,995 | Upon completion, students can expect to have a solid grounding in the skills and knowledge needed to become a Web Designer. |
| Webmaster | $1,995 | The Webmaster course prepares students with the skills and knowledge needed for successful careers in the Web development. Web applications are a vital part of communication on the Internet, and Web developers are in high demand in large and small companies and organizations. |
| Welder Technician | $1,995 | This Welder Technician training program is an accelerated training that allow you to identify the required knowledge and skills for each worker and provide a pathway to upskill and validate workers competences. |
| Wind Energy Professional | $2,395 | This entry-level Wind Energy Professional program prepares you for a career in the wind energy industry. |
Online Advanced Career Training