Description
Applicants may apply for a CDL beginning at age 18. However, Federal Regulations state that a license holder, including CDL holders, must be 21 years of age to drive a commercial motor vehicle in interstate commerce. Therefore, CDL holders in Massachusetts under the age of 21 will be issued a K restriction (Intrastate Operation Only). Commercial vehicles are divided into 3 classes based on size, weight, and functionality. In addition to classes, you may also get endorsements, which permit you to drive specifically kinds of vehicles. For example, you'll need a special endorsement to drive a school bus.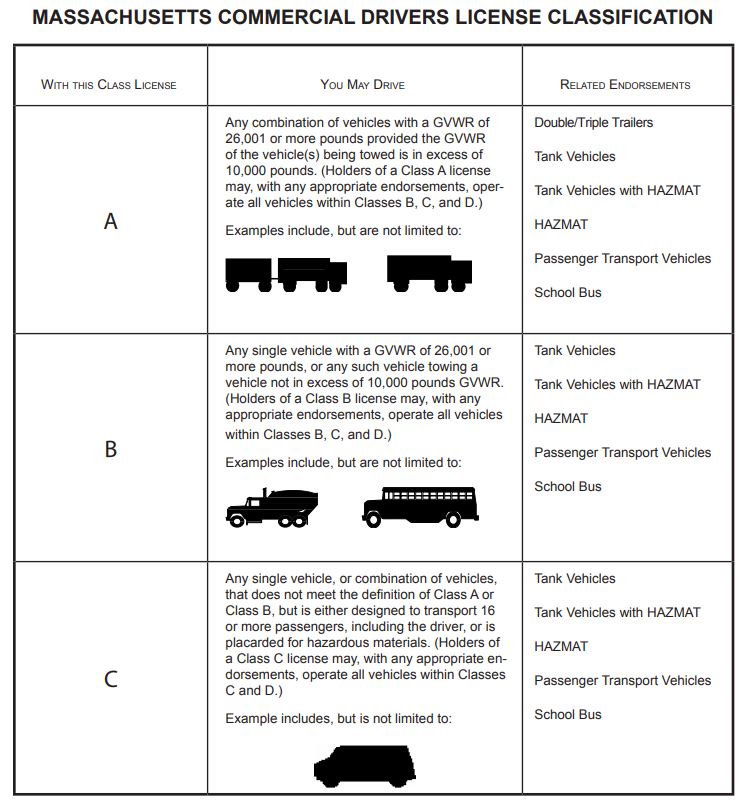 You will have to take one or more Knowledge Tests to obtain your CDL permit, depending on what class of license and what endorsements you need.The CDL knowledge tests include:
• the General Knowledge Test, taken by all applicants (One hour – 50 questions)
• the Passenger Transport ((P) Test, taken by all bus driver applicants (20 minutes – 20 questions)
• the Air Brakes Test (L), which you must take if your vehicle has air brakes (25 minutes – 25 questions)
• the Combination Vehicles Test, which is required if you want to drive combination vehicles (20 minutes – 20 questions)
• the Hazardous Materials Test (X), required if you want to haul hazardous material or waste (30 minutes – 30 questions)
• the Tanker Test (N), required if you want to haul liquids in bulk (20 minutes – 20 questions)
• the Doubles/Triples Test (T), required if you want to pull double or triple trailers (20 minutes – 20 questions)
• the School Bus Test, required if you want to transport pre-primary, primary, and secondary school students in a full sized "School Bus" (i.e., Big Yellow Bus)
---
Class A CDL training consists of 40 hours of classroom instruction and a minimum of 80 hours of road and field maneuvers (combined). Class B CDL training with bus driver endorsements consists of 20 hours of classroom instruction and 40 hours of road and field instruction.
These classes will prepare you to take the Massachusetts Registry of Motor Vehicles (RMV) knowledge tests. Participants will engage in classroom instruction, hands-on demonstrations of a pre-trip safety inspection, video presentations, and practice tests. Deadlines and timelines regarding CDL testing will be explained.
---
Step 1: Get the Commercial Learners Permit (CLP)
A Commercial Learners Permit (CLP) is a permit that only authorizes you to practice on public roads with a qualified CDL holder sitting next to you. Getting the permit involves more than just passing all the knowledge tests for the type of driving you want to do. To make sure that you are eligible your driving record is checked for the last 10 years in all 50 states and the District of Columbia. You need to bring in the proof that your state accepts to show that you are medically qualified. Most types of commercial driving require a DOT medical card, requiring a DOT physical. Your state may require specific documents it wants to see to prove your name and proof of residency. There are fees for getting the CLP. Reading and following the instructions in your state's CDL Manual streamlines the process.
Step 2: Get the Commercial Driver's License (CDL)
You are required to possess the CLP for 14 days before taking the Skills Test. Some states require the successful completion of CDL training prior to testing. Regardless it is highly recommended that you practice the inspection tests and maneuvers in the CDL Manual that you will be tested on with a qualified individual before showing up for the test. You must pass all 3 parts of the Skills Test: the Vehicle Inspection Test, the Basic Controls Test, and the Road Test. Your state may even allow you to use their "training aid" to help you remember items on the vehicle inspection checklist. Taking the Skills test is no guarantee that you will pass.
Once you have passed the Skills Test you need to take the documentation to the counter for processing. Some states will give you the CDL that same day, while others send it to you in the mail. Regardless make sure that everything is correct before you leave the counter. It can be costly and embarrassing if you find a mistake later.
---
Instructor Kathy Everett is the School Bus Safety and Training Supervisor for the Worcester Public Schools Transportation Department.  Kathy has been a licensed and certified school bus instructor in Massachusetts for more than seventeen years and has successfully trained hundreds of successful school bus drivers. Kathy holds a Class A CDL with P and S endorsements and air brake certification to complement her school bus instructor certification.